Candy Doll event!
I am an avid fan of Tsubasa Masuwaka and I absolutely love the Dolly Wink cosmetic line. When Candy Doll was launched, I got even more excited because it mainly consist of the basic face products! I have never used a full size Candy Doll item before but I did try out some samples given to me regarding the Candy Doll Makeup Base and I LOVE IT.
I have tried out Dolly Wink eyeliners(both liquid and pencils) which have became my favorite eyeliners so I have really high hopes for Candy Doll products too!
As a blogger, I am ashamed to say that... I forgot to bring my camera to this event >.<
Which is why I have to rely on my phone so the quality of the pictures isin't that good.
Headed over to Reebonz Space after school with Clarissa! We were one of the earliest to reach.
Waited for Eve to come over.
Didn't really put much makeup that day so no zi-lian photo haha
Generous spread of testers for us to try out the products! I especially love the makeup base, lipstick, face powder and highlight! Not to mention, they have a variety of lip glosses as well as blushes, perfect for every single occasion or if you want to create different style!
The candies decorations were handmade by one of the talented M.O.S.S lady! The amount of effort put into this event is just...omg.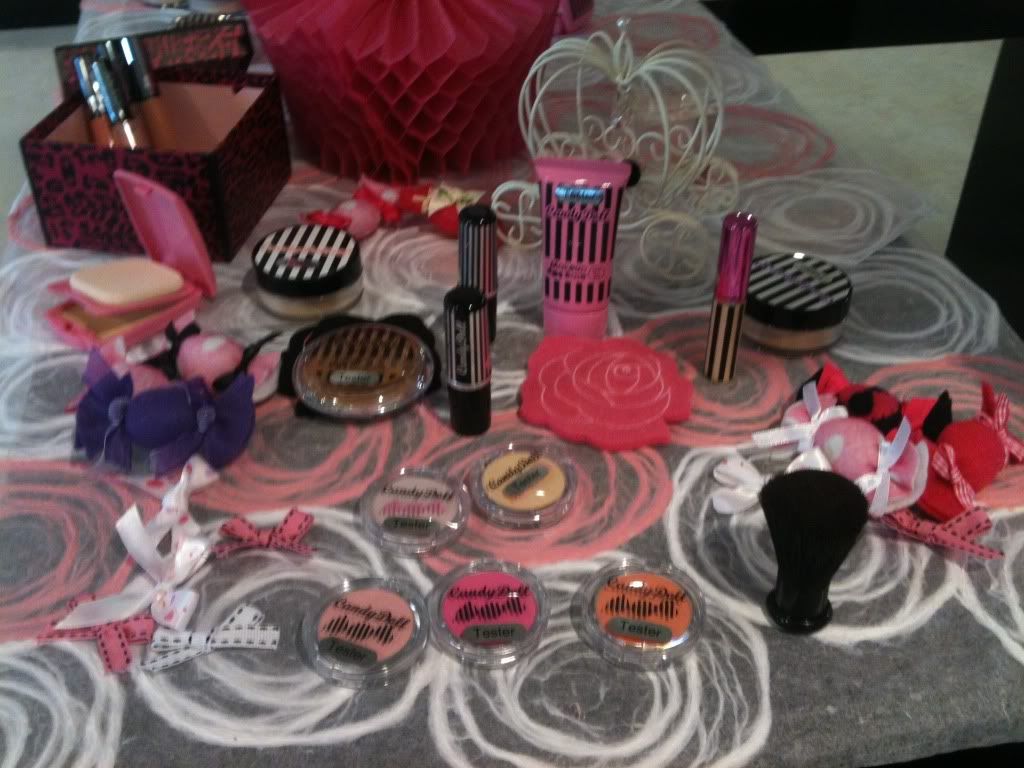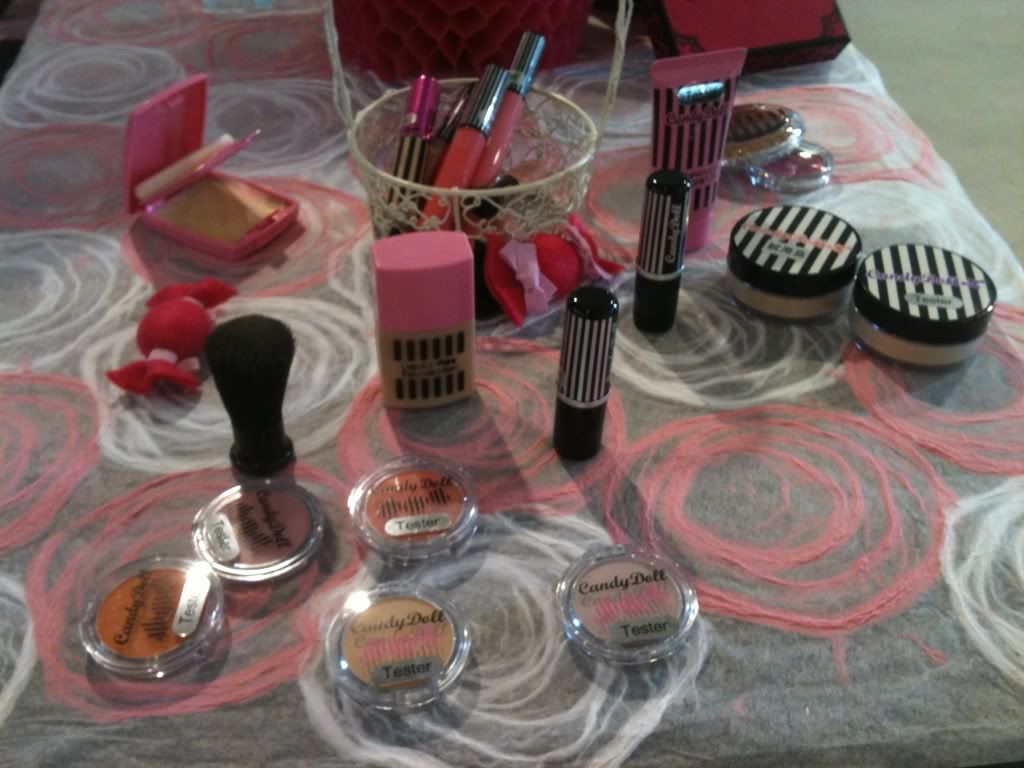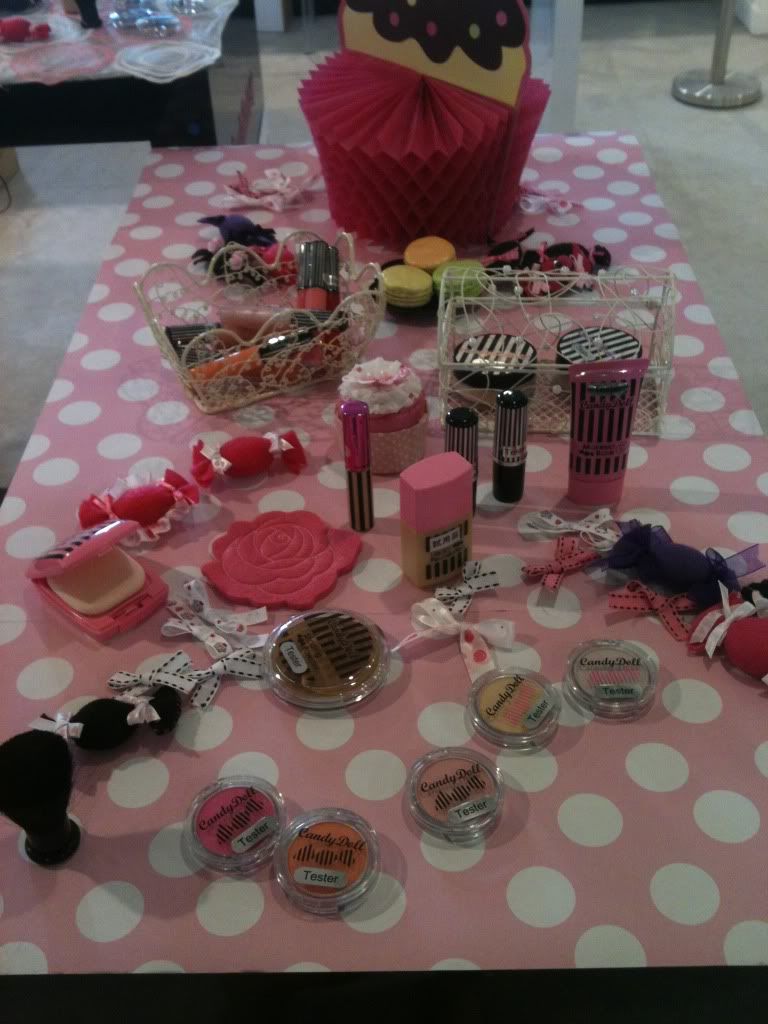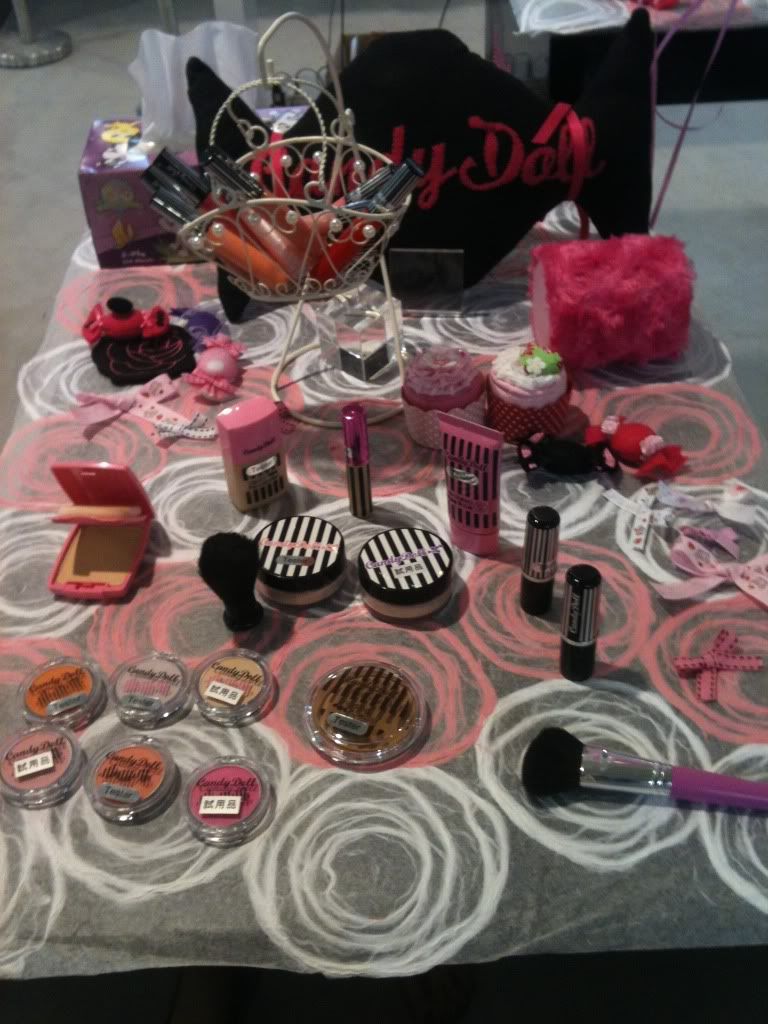 Mawaki-san's makeup table! He's the makeup artist for the day. Not surprising that he knows the best way to use each of the product!
Mawaki-san doing a makeup demonstration on the model! She's really pretty and petite! Love her skinny legs haha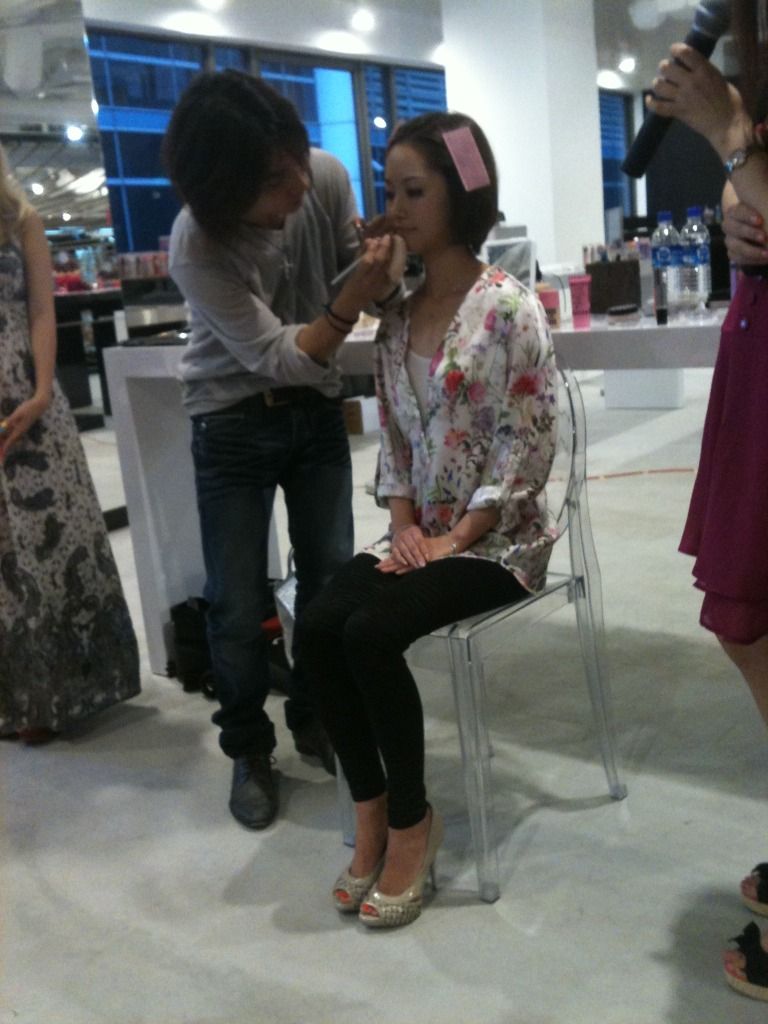 Some of the makeup tricks I picked up:
1) If you want to create a dolly look, put the blush at the middle of your cheeks.
For a more cool or mature look, put the blush at the side of your cheeks instead!
2) Use the marshmallow purple highlight for the tip of your nose to give an illusion of a higher nose bridge. Alternatively, you can also use a beige color.
3) Concealer is a MUST HAVE for every girl! Candy Doll concealer is able to cover up spots, dark eye circles and pigmentation. It can also double as a highlight!
4) Apply a thin line of blusher at the tip of your chin. This will give the illusion of a smaller face. A thicker line will give the illusion of a larger face so just use your finger!
5) Shading power can be used to give the illusion of a egg shape face that is said to be the "perfect" face shape. Depending on your face shape, the shading powder is applied differently.
For square shape face, apply it on your side jaw line and a little on your hair line.
For round shape face, apply it on the sides of your face and extend your blusher line to just before the ear.
For long shape face, apply it on your chin and forehead.
Lastly, for triangle face shape, apply it on the tip of your chin and the hairline.
You can also refer to
http://www.candydoll.jp/howto/page17.html
for pictures and more details!
There was a treasure hunt afterwards, with two silver boxes filled with makeup products placed in the midst of the branded bags and clothes at Reebonz Space!
GUESS WHO FOUND ONE OF THE BOX *shivers in excitement*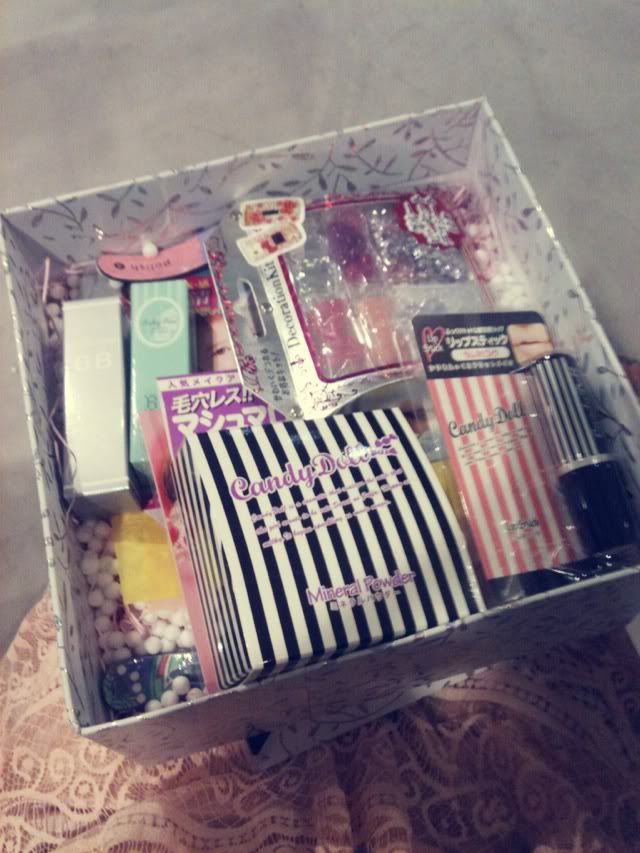 Ta-da~ What I bought home that day :D
I'm so happy omg I have been wanting to try out Candy Doll lipstick in Ramune Pink for the longest time yet a little unwilling to buy it because my current lipstick- M.A.C Blankety seems similar to it. So I finally have my hands on this and the texture is so much better! It's more moisturizing on my lips too.
Candy Doll mineral powder is also included! Yay! With a few other products also under the company that distributes it.
Photo credit to Juvena!
Thank you so much to M.O.S.S for organizing this event!
I definitely enjoyed myself ^^