My Skincare regime
My skin, only covered with one layer of loose powder (NOT foundation!).
When I started wearing makeup around 3 years back, Mummy dear would nag at me whenever I pick up a bottle of foundation at the department store. "It clogs your pores!" she'll exclaimed and directed me to the sunscreens instead. Since then, I have grown a dislike to liquid foundation (or just products labelled 'foundation' in general) for it made me look yellowish too.
I don't have any visible acne or pigmentation and the only existing skin problem that I have is covered up by the ring light's lighting. I have combination skin type by the way!
My skin concerns? Small tiny bumps around the cheek area below my eyes with occasional slight redness at that area -that's where my specs would hit whenever I laugh. I suspected it to be rosacea at first though but it could also be due to the fact that my specs needed to be washed with dettol everyday LOL Honestly I have never gone for a skin consultation (yet!).
Moving on to all the products that I currently own. I do think that it's a reasonable amount for me since I don't have a lot of products. Most are purchased by me while a couple were given by the company.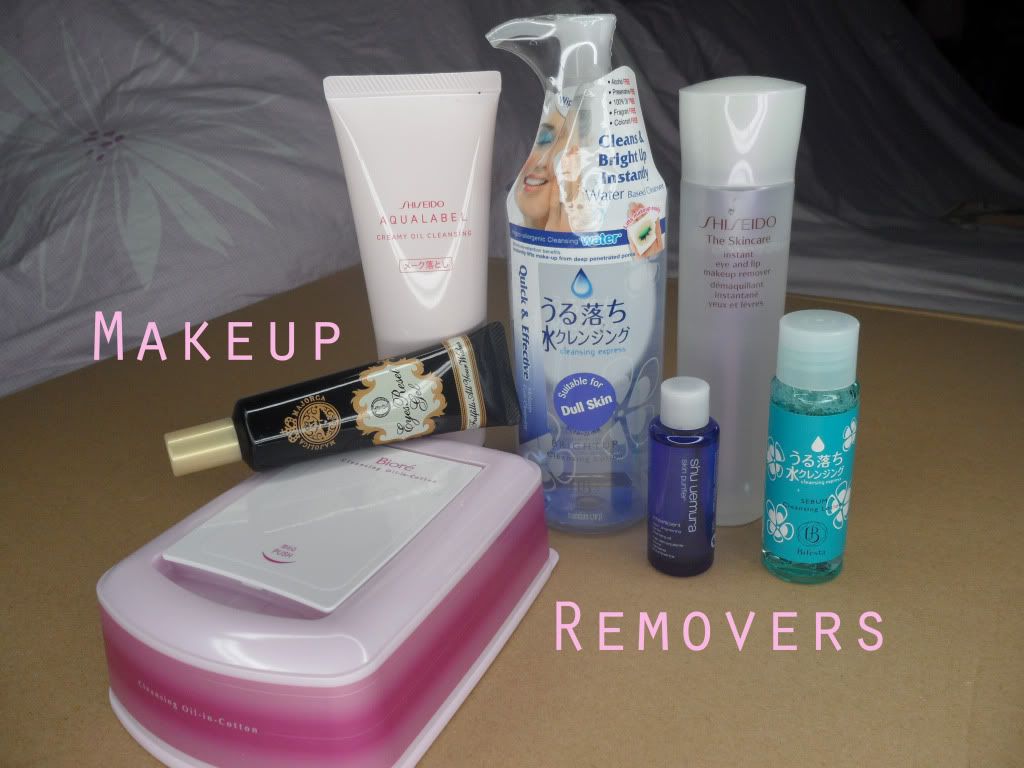 Removing makeup is the most important step in any skincare routine! Never ever be lazy to the extend of sleeping with your makeup!
I have tried a couple of makeup removers and my favorite would be Bifesta for my skin feels super good afterwards since it hydrates my skin as well as removed all makeup. I'm currently using up the travel size bottles that they've given to me but I also bought a full size as a back up! It's really that good plus the full size bottle called Bright up supposedly has "brightening" properties.
For stubborn eye makeup, I'll use the Shiseido instant eye and lip makeup remover since it works really well...I used up quite a lot of this to remove my eyelash extensions last time.
On days where I get home really late or I'm just really tired, I'll use the Biore makeup remover wipes because less effort is needed to removed my makeup. The Shu Uemura one is really good too and I'm kind of reluctant to use it since it is quite pricey and I do think that the Bifesta removers are more value for money.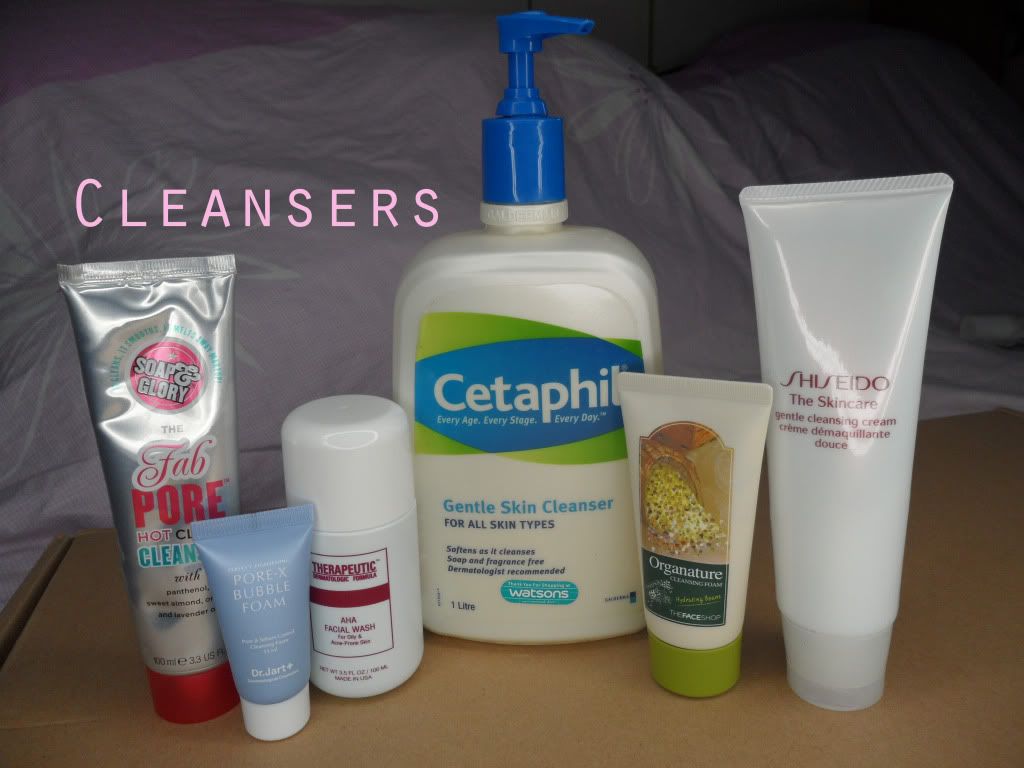 Cleansing is the next important step and definitely a must for me whenever I wake up and once I get home. In the morning, I'll just use Cetaphil cleanser. When I get home, I'll use the Cetaphil in the shower and then one of the rest at the sink after. Currently I'm using the TDF AHA facial wash since I got it last week at the TDF blogger's event. So far my skin feels and look really good after! Definitely recommending it for people with oily or acne prone skin.
I use the Soap and Glory Fab pore hot cloth cleanser when I feel like using a creamy facial wash.
The PoreX bubble foam on days where I feel like my skin is kind of oily? This made me feel squeaky clean after! Same goes for the Organature from the Face shop.
The Shiseido gentle cleansing cream is for days where I have minimal makeup on or if I'm in a rush to go somewhere else after as it doubles as a makeup remover also.
I used to think that toners are ridiculous but after I've used them, if my skin could talk it would be thanking me! Toners are meant for double cleansing to remove any other bits of dirt trap in your skin after cleanser and to readjust your skin pH back. Yes, our skin typically have a pH of 4.5-5.5!
Currently I'm using TDF Mild astringent after the facial wash. I'm not really a fan of the Dermalogica one since it comes in a spray bottle and I feel that the product is not evenly distributed if I were to spray it on my face. Kiehl's Calendula toner is really good too! Was using this before trying out the TDF.
For me, I use a moisturizer after toner just because my skin feels much better with it through the night. When I'm sleeping, the cool surrounding might dry my skin! I'm currently using the TDF ultra light hydrator which is also suitable for people with oily skin as it is water based. At the mid of last year, I was using Estee Lauder Hydrationist which works really well but it kind of broke me out when I was in Oxford, prob due to the change in weather there, but I stopped using it after.
I don't really wear a sunscreen by itself as it makes me looks glossy with the tiny specks of UV protector in them so I put on moisturizers with SPF instead! Currently using the Clarins White Plus SPF 20 which was given to me, this has a matte finish and smells really nice too.
I used the Feel good factor on days where I think I need more SPF coverage.
I exfoliate my skin a couple of times each week, depending on my skin condition. My favorite has got to the the Laura Mercier face polish which leaves my skin absolutely smooth instantly after using it! You can use this daily as it is very gentle though I won't really recommend scrubbing your face everyday. I got it from True Colors at Ngee Ann city for a whopping $70 at the beginning of last year and a year later, I'm only 1/3 through. However, Sephora now carry Laura Mercier products and this retails at about $46 there I think *inserts sad face*
I picked up the St Ives scrub for travelling when I was going to Oxford and my skin really didn't love the weather there. I was breaking out even more than in SG and the Laura Mercier was too gentle for the atmosphere over in England for my skin. The St Ives is a stronger scrub and I used this once or twice a week.
(Pardon the fake-ness of this photo but it turned out to be quite blur so I had to retake individual shots and put them in lol)
I don't really use serum nowadays unless I feel like my skin needs a pick-me-up. I did a review on Estee Lauder Idealist Even skin tone Illuminator previously and this is good if you have uneven skin tone. Clarins whitening smoothing serum is more for brightening up my complexion. Both products are given to me and they smell really nice!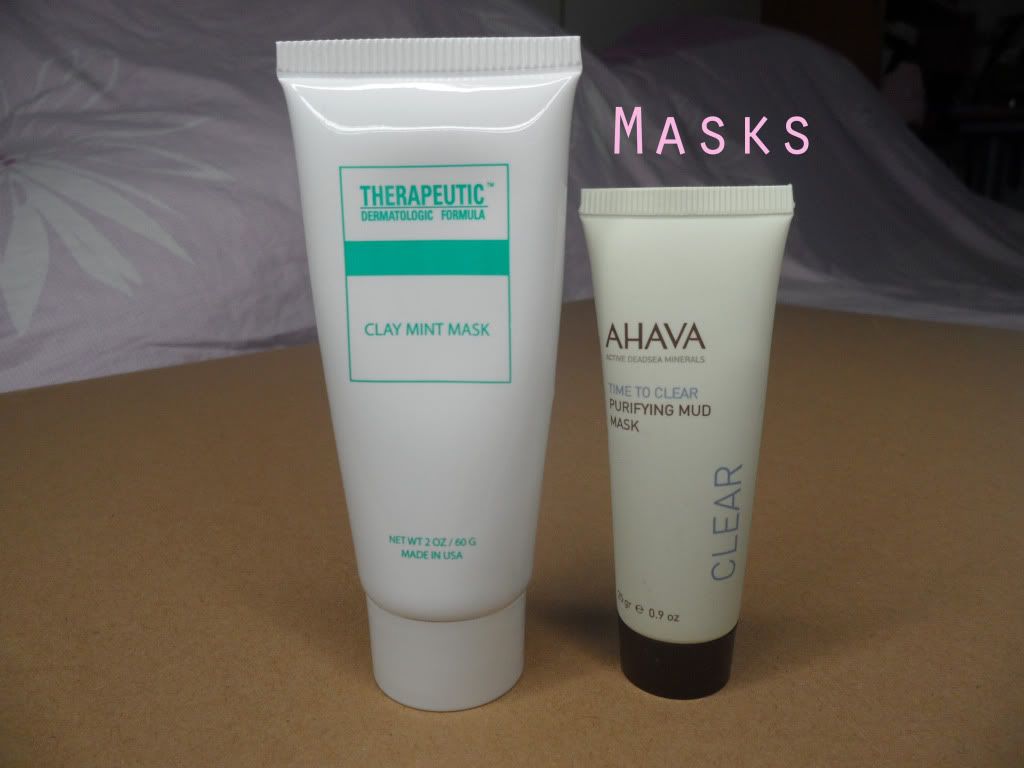 Not forgetting, masks! Not the sheet mask kind but those that helps to purify your skin and remove blackheads. I am currently using both masks on different days. The TDF clay mint mask have a strong minty smell but the Ahava mud mask smells kind of like....mud?! I don't know how to describe it but it's not a very pleasant smell to me. However, both masks works really well in minimizing my blackheads!For the TDF mask you have to leave it on for 15 mins, which is a lot longer than the Ahava mask which only needs to be left for around 3-5mins.
That's all the products that I use in my skincare regime. Using skincare products is more of an enjoyment instead of a chore for me so I use it according to my mood or on how my skin is feeling that day! Different people have different skin type so the products that I'm currently using may not be suitable for your skin. I guess it's mostly trail and error to determine which products would suit your skin better.
Thank you for reading this long post! Enjoy your week! ^^
Looking forward to my birthday on Friday :D