7-11 blogger contest
So we all know that 7-11 is almost everywhere. There's probably one down the street, at the shopping centre near your house or even right downstairs-if you're lucky enough.
It opens 24/7 and it's really convenient for people like me wanting a late night snack!
Last night I was up having a movie marathon with my sister, we decided to grab some snacks from the 7-11 at a street across my house!
Before I show you what we got, here's some of my favorite things to get from the convenience store.
I love Hottis! Been eating this chips for a couple of years now...since I was in primary school!
I like being able to fill up the cup by myself since I will balance as much chips as I can lol
They were having this $2 promotion where you can get a drink(Gulp) and Hottis or mashed potatoes or cup noodles.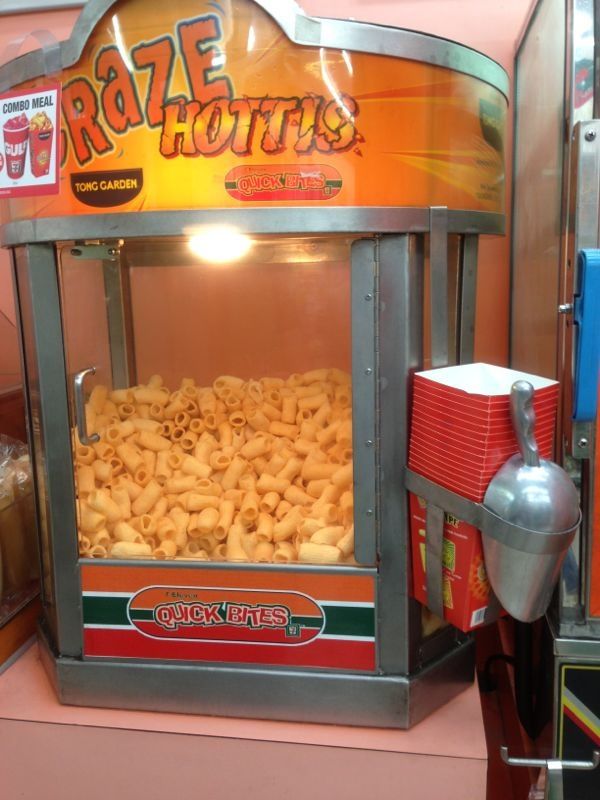 Mashed Potato! My sister loves this stuff!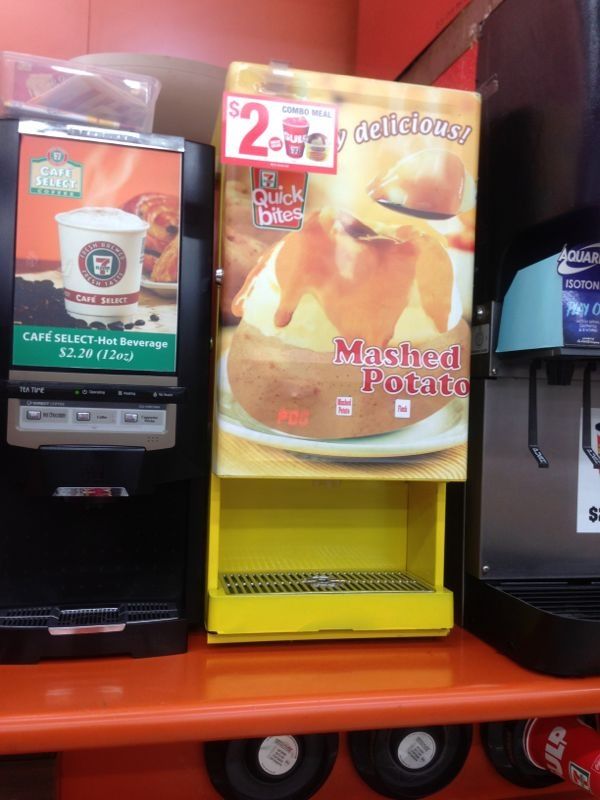 And the packaged food section with ready-to-eat sandwiches and Pizza bites which is quite delicious!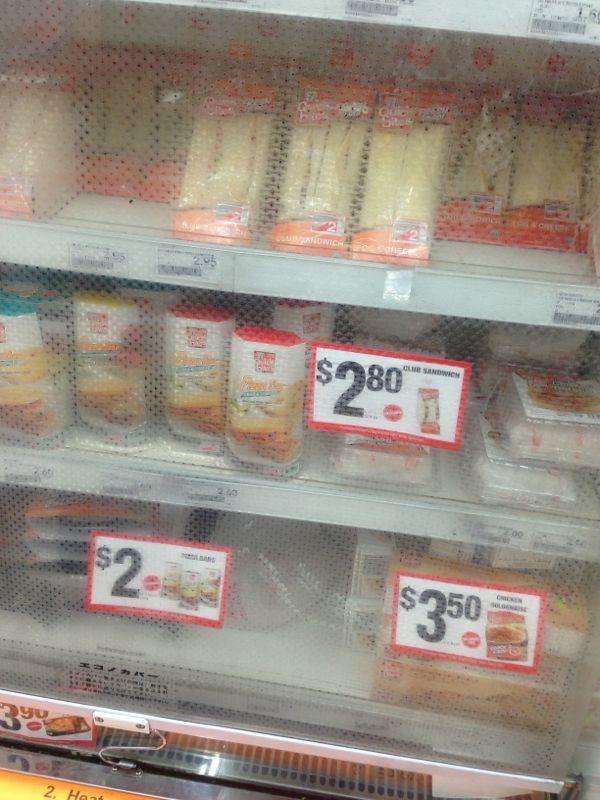 Another spot that I like in the shop is the sweet section, I have such a sweet tooth and I love those green apple rings and the long sour sweets!
I don't usually eat potato chips since they give me sore throat easily but I stick to Jagabee and Tae Kae seaweed snacks. I sometimes eat my rice with the seaweed snacks :x
I know some of you do that too! (Hopefully not just me lol!)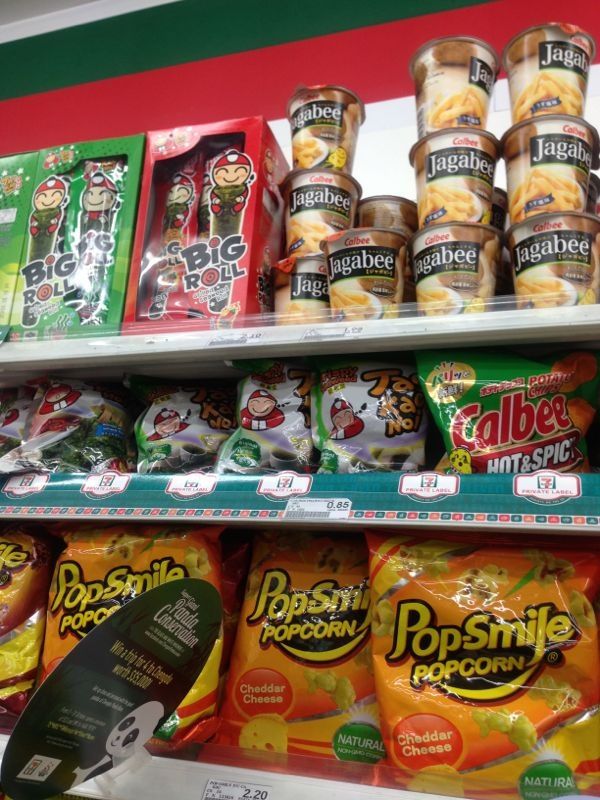 They have have magazines, soft toys, breads, top up cards and many more things. I'm pretty sure you don't need me to tell you what's at 7-11 right? I mean, you can find everything in there! As long as it's not live food like fish.
We decided to get the drink + Hottis promotion since it was quite worth it.
Trying to scoop as much chips as I can!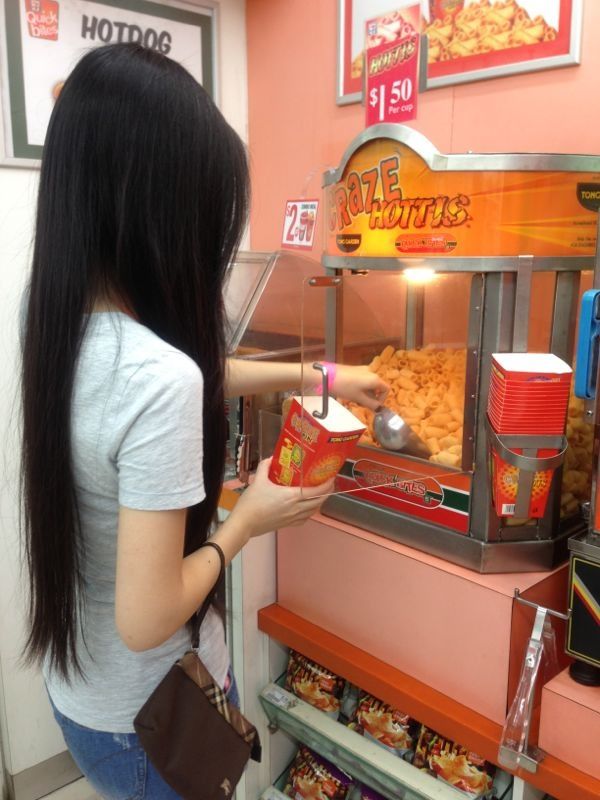 Ta-daa! My drink(ice lemon tea) and Hottis snack.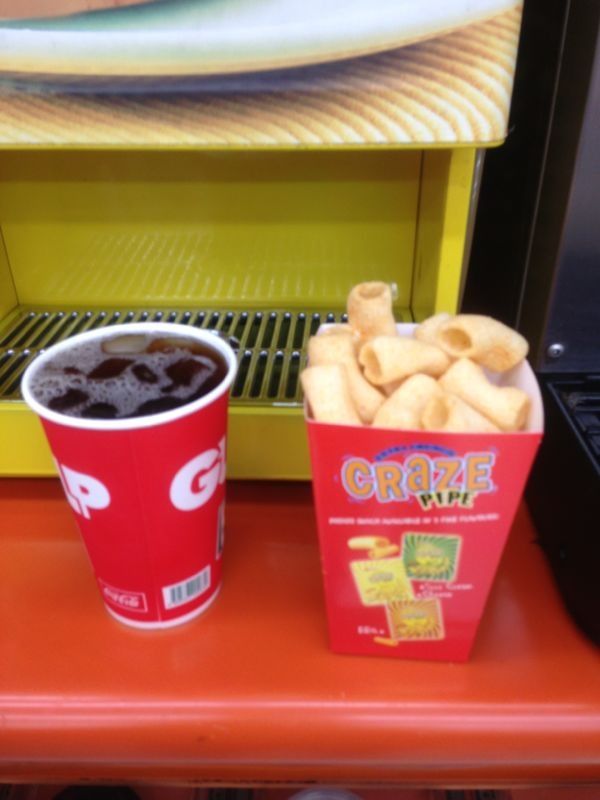 Wanted to get mashed potato but the shop was out of the mashed potato cups! Asked the cashier if we could use the drink cup but she said no ):
So I grabbed a cup noodle instead..got the tom yum one from the 7-11 brand since there also have the $2 promotion which my sister got another drink!
(One of the rare blog post where I have no makeup and contact lens on. Please enjoy this picture while you can lol!)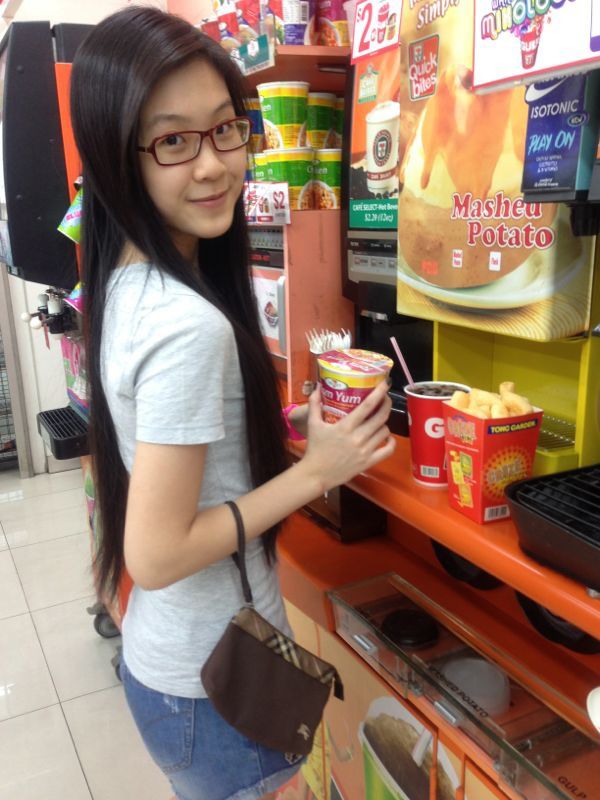 This was the only item left when we got home! Haha Finished up the Hottis and drinks on the way back even though we were planning to get them for the movie. At least we still have the cup noodle. Should have grabbed the Jagabee too....Ah, regrets.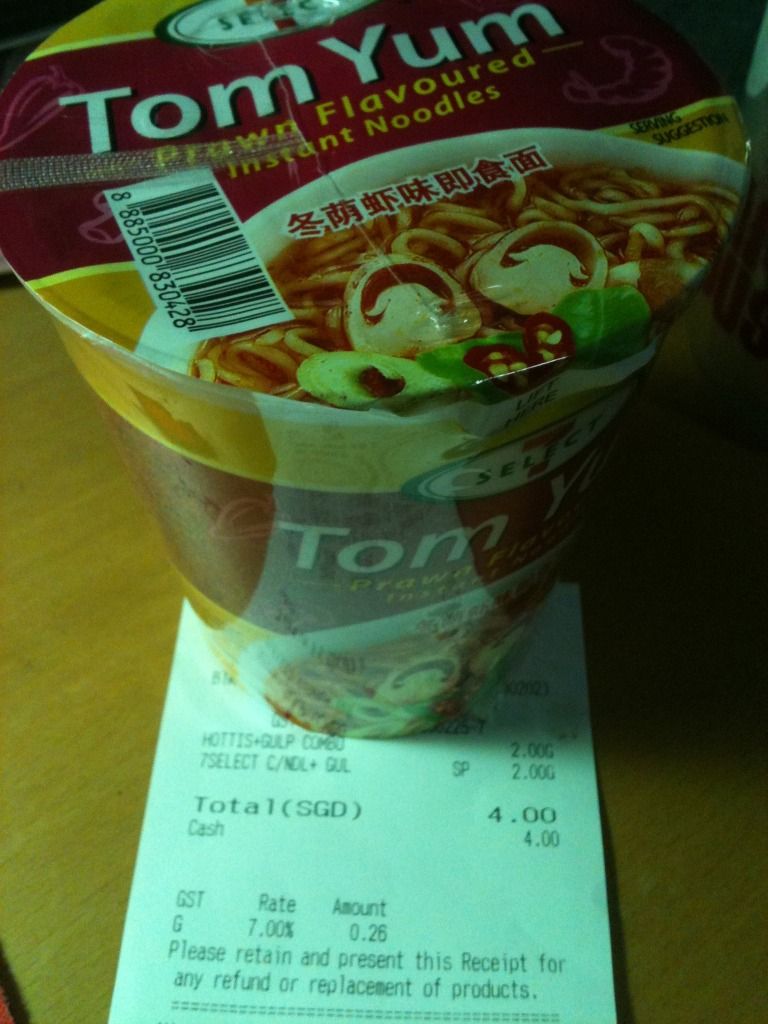 If I were to win the 7-11 blogger contest, I would want to go to Taiwan!
I watch those Taiwan variety shows with my mummy most of the time so I guess this decision is influenced by that show.
I love food and I know that one of the main attractions over there is their street food!
All the large crispy chicken, mee sua, spring onion pancake, mushrooms, sweet potato fries, desserts, bubble tea etc!!!! I know I think about food 90% of the time I'm awake.
Can totally imagine myself on Taiwan streets!
*Teleports cartoon self to Taiwan*
Background Credit
Who knows, I might be able to convince my Taiwan bestfriend to fly back together and give me a tour too haha!
And I just found out there's 7-11 in Taiwan also?!?
Anyway, 7-11 is having the Leading Brand contest where you just have to spend $3 and guess which brands are the most popular. So go over to their
fb page
, give them a "like" and join that competition! No harm trying, right? (: