Random baking diary
Recently I have been baking a lot during the past few weeks..it's sort of a new found hobby when I can't get to sleep at night! I think it was last week (or the week before) that I tried baking some matcha shortbread and I spent a few days trying to perfect the recipe. I even did it with and without egg!
In case you're curious, the batter with egg is more easier to manage but the texture without the egg is more awesome...it just melts in your mouth!
Few days back I decided to try baking Rainbow cupcakes so I got all the ingredients etc from Phoon Huat. I love baking from scratch, I just find that more fun as oppose to getting a mix!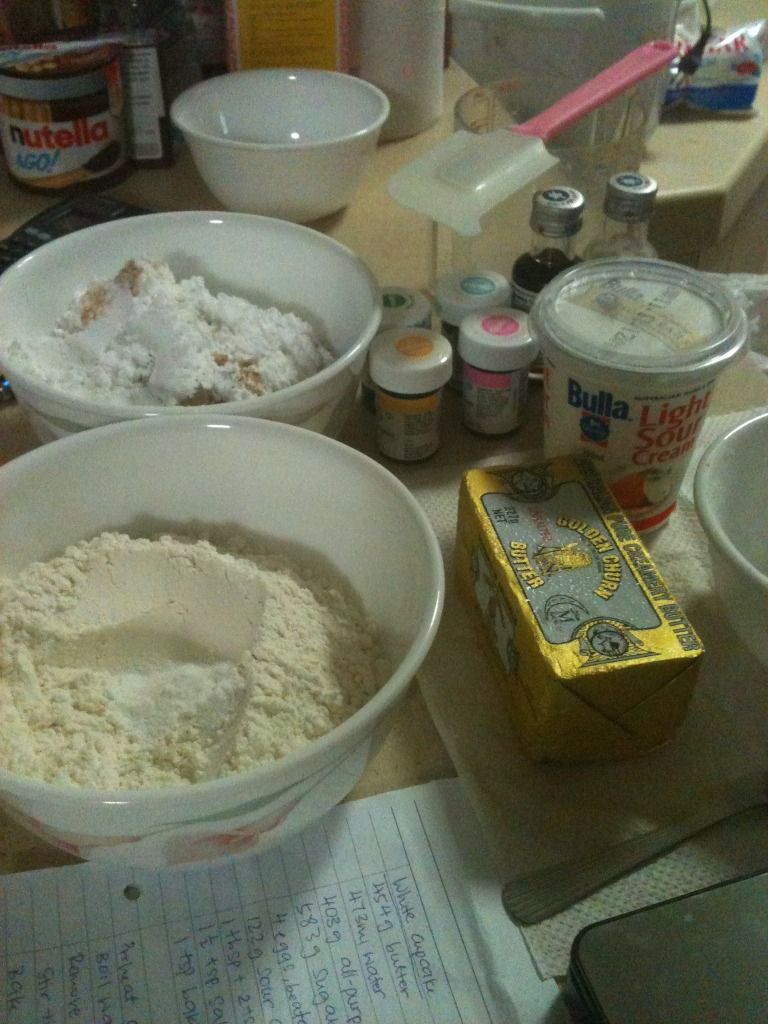 Flour, baking powder, sugar, butter, sour cream and colorings because I wanted to try making rainbow cupcakes with a Texas Sheet cake recipe. Got the original recipe online and modified it till it's suitable for a cupcake recipe! Texas Sheet cakes are really moist and soft!
One way to cheat getting a moist cake is to slightly melt butter in a pan before adding it into the mixture. That's what I heard from a friend so don't quote me on that!!
Separated the batter into bowls and added the coloring. Got Wilton's coloring in Pink, Buttercup Yellow, Kelly Green and Sky Blue because I wanted to try getting a Pastel Rainbow Cupcake instead of the normal rainbow color...but I added too much coloring so it looks like a regular rainbow cupcake lol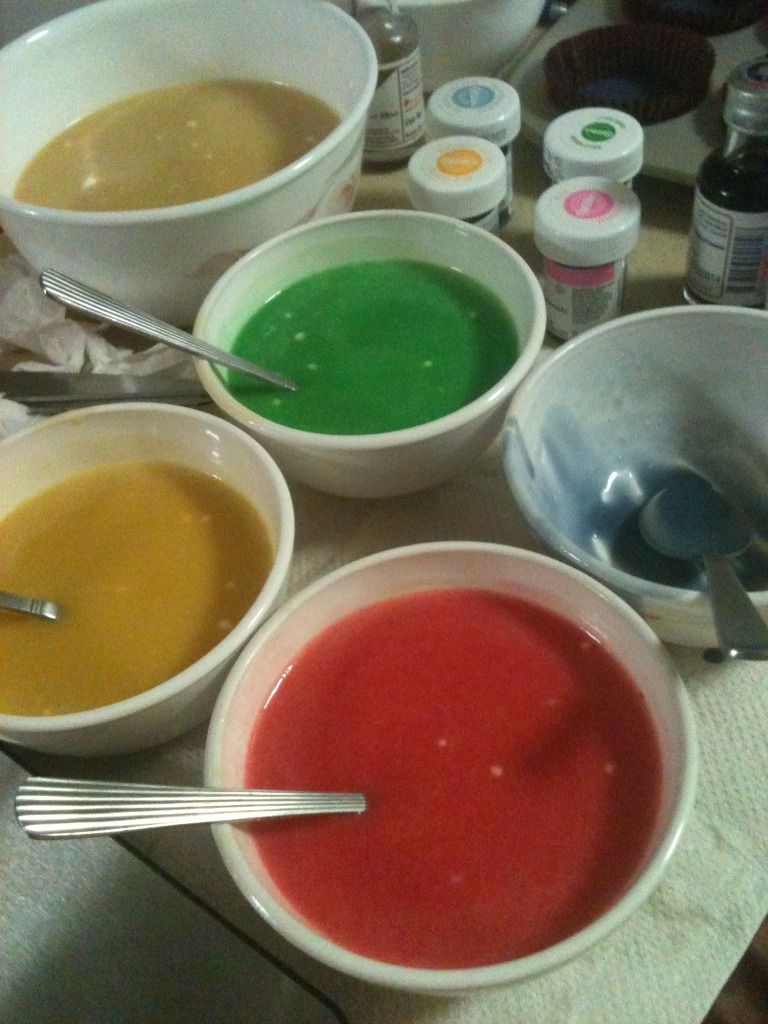 Pouring the batter into the cups! Don't try to think of pouring the batter one by one, baking them for a few mins before pouring in another layer because it won't work. Just add in all the colors together!
Quite alright for a first time I guess but I wasn't happy with the color! And also, I find that using a soft cupcake recipe wasn't suitable for trying out rainbow cupcake... T.T
So last night I tried baking another batch of cupcakes again, this time using a normal vanilla cupcake recipe. Manage to get the pastel colors!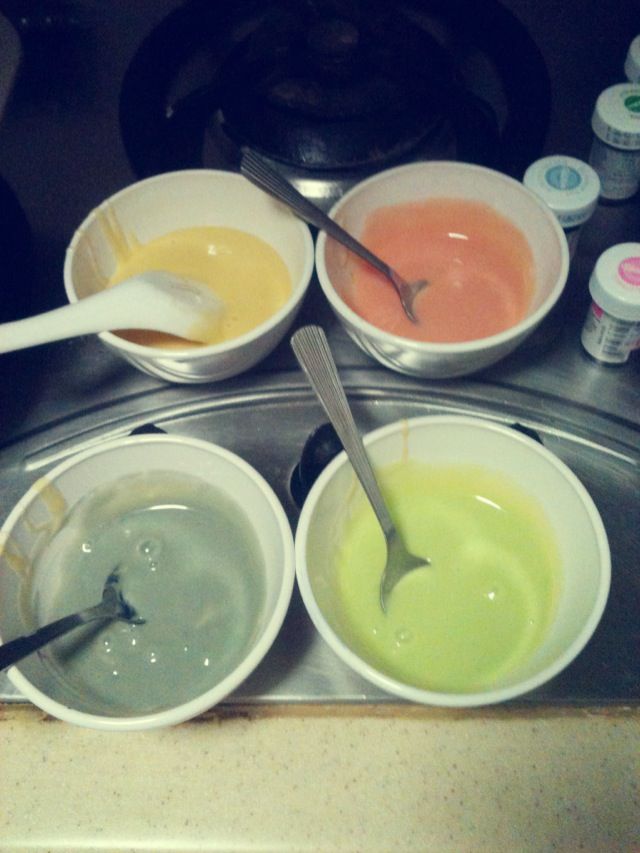 Pouring them into the colorful cups! Had too little pink cupcake batter though, should have divided the batter more evenly next time, with more batter for the top color.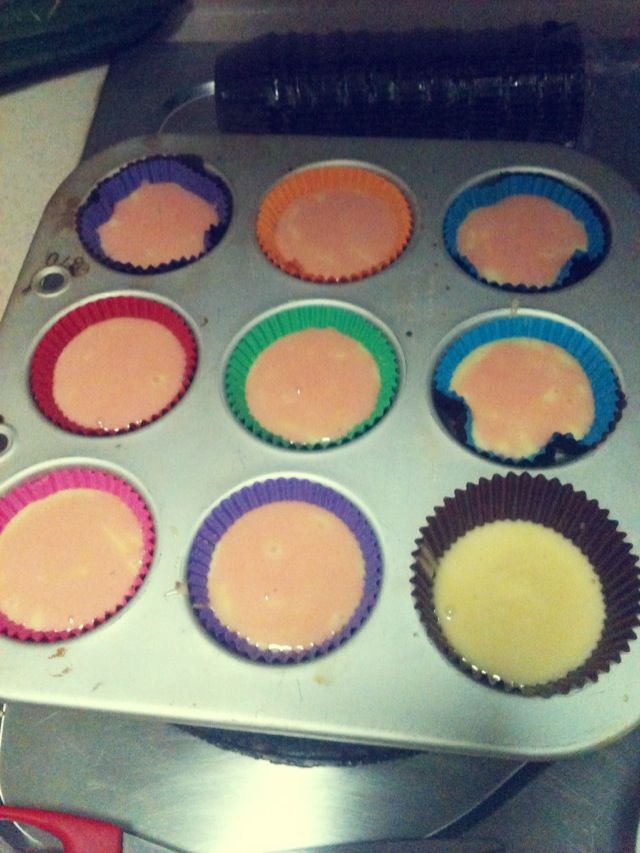 After baking the cupcakes! Letting them cool on the rank.
I thought I would try frosting the cupcakes to make them look more presentable so I mixed some icing sugar, milk, butter and pink coloring together to making the icing!
And then pipe them on the cupcakes! Ta-daa~
Not bad for a first-timer right?
Now I'm just itching to try baking a pastel rainbow cake!
Who's birthday coming up? (;
Labels: baking