Olay Regenerist Wrinkle Relaxing Cream Review
Everybody wants to have a youthful complexion, baby smooth skin and no visible wrinkles for as long as they can. I know when I was young, I always wanted to look older so I tried experimenting with makeup. But as we age, we're wanting to look young again.
That being said, it's never too early or too late to start looking for products to help us turn back time.
What if I told you the key to looking younger again is actually having a good skincare regime?
Everyone knows the benefit of cleansing your face but how many of you skip the moisturizing step? I'm guilty of that sometimes!
Moisturizing your skin is actually really important as it makes your skin more luminous and radiant!
Damaging factors such as air-conditioning that drys your skin, pollution, sun rays etc...reduces your skin's natural moisture levels thus leaving your skin exposed to irritants! Moisturizing your skin not only provides it with a temporary barrier, but it also protect your skin, giving the damaged cells time to repair.
Apart from moisturizing, we also need to get rid of the aging lines known as wrinkles on our face.
Olay Regenerist Wrinkle Relaxing Cream is quite a mouthful to pronounce but nonetheless, a solution to your age lines.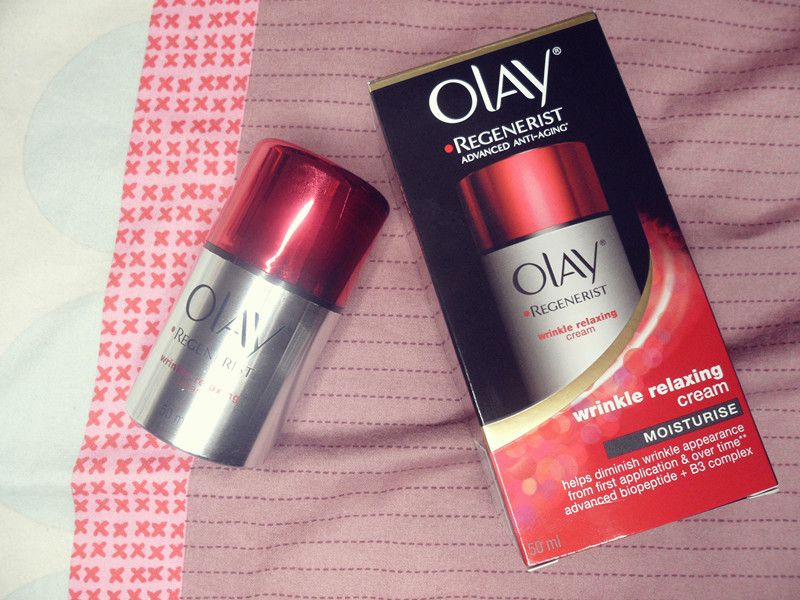 Olay Regenerist Wrinkle Relaxing Cream is a moisturizer that also diminished the appearance of wrinkles in just 1 application! This cream is based on technologies by Olay scientists to manipulate the path of light and make your existing wrinkles "disappear". It uses optics-based skincare to smooth skin's surface by filling the "valleys" between your wrinkles or fine lines by utilising three different sizes of optical powders smooth skin. Adding on, this cream has a high concentration of humectants to make your skin suppler and slow down the progression to permanent lines and wrinkles.
It comes in a pump can that's sealed with a stopper. The moisturizer has a slight fruity floral smell to it, really pleasant and calming! I let my mummy tried this product and she really love it too! She also commented that the smell was really nice.
The Olay Regenerist Wrinkle Relaxing cream glides on smoothly on my skin and absorbs into the skin relatively fast. I apply this product on my face, neck and hands after cleansing my face at night.
So far I do not have any reaction to the product so I'm loving it!
I strongly recommend you girls to give this product a try because if you don't love it as much as I do, you can always get your money back! Olay has an Olay Money Back campaign till the end of 2012. You can get the full refund if you're not satisfied with any Olay products listed by going to the
Olay Money Back website
and filling up the form!
However, I am saying
NO
to this campaign as this product works for me and there is no reason for me to be unhappy about it. I do think that Olay has been in this field for a very long time now and their products are comparable to other high end brands! You can get the Olay Regenerist Wrinkle Cream retailing for $49.90 at Watsons, I'm not sure if there's any promotion for it now since Watsons is having a sale though.
Good luck to getting more youthful and radiant skin!
Thanks Jeraldine and CC for sponsoring me this product.
All opinions are my own.