Sunplay Skin Aqua UV Moisture Milk review
Just got back from my roadtrip to Malacca with a few friends! The weather there is insanely scorching at 35 degrees in the afternoon, similar to Singapore's weather so I had to pile on some sunscreen...and of course, I used Sunplay's suncreen!
Tried out Sunplay's Skin Aqua UV Moisture Milk and I really liked it!
It comes in a portable size screw-cap bottle, small enough to put into my toiletries bag for travelling.
There is a small opening at the top for you to dispense the product.
The Skin Aqua UV Moisture Milk is super light-weight with its watery liquid texture.
If you're wondering what is a "moisture milk", it is actually a lotion! It is fragrance, color, alcohol and oil free....plus, suitable for ALL skin types! Even though it is fragrance free, it still has a pleasant scent to it.
Remember to shake the bottle before using it.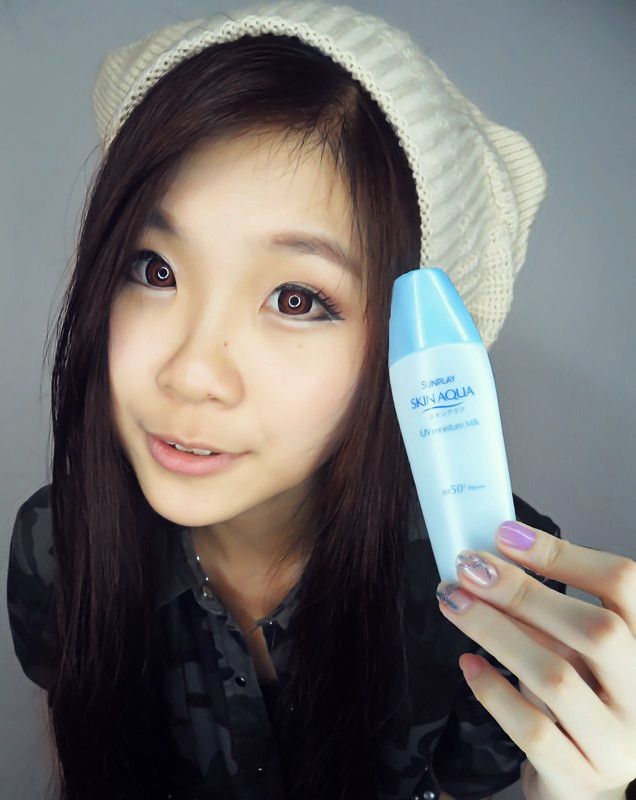 What I really like about this product is that it absorbs quickly without the typical white cast from normal sunscreens. It is non-greasy
and
it also gives a matte powdery finish so you can also use this as a makeup primer.
I tried it out on my face and arms and I love how my skin feels afterwards...this product feels hydrating and really good on the skin!
A bonus point- no matter how many times you reapply the sunscreen, there will never be a greasy feel. How good is that?!
One thing that I didn't like about this is that the product is a little too watery to be applied on my face as I prefer a thicker viscosity product
but
that being said, I only have to use a
tiny
amount of Skin Aqua for my face as it is very spreadable due to the low viscosity. So this product would last for a really long time! Unless you're more of an outdoor person unlike me.
Did I mention it is also waterproof and sweat proof?
The Skin Aqua UV Moisture Milk has SPF 50, which gives you 50 times protection against
UVB
rays.
UVB
rays are responsible for causing skin cancers so you really need to avoid those as much as you can. The strength of these rays varies as it gets stronger in summer...which is basically most of the time in Singapore.
Skin Aqua also has a PA rating of PA+++ which gives you the highest protection against
UVA
rays.
What
UVA
rays does is to penetrate deep into the surface of your skin which gives you the signs of aging. These rays are constantly present and can even penetrate through the windows or clothings.
However, if you're thinking about pilling on different sunscreen to get an even higher SPF protection...forget about it. If you use SPF 30 and a SPF 50 sunscreen thinking that you'll get an SPF 80 protection, truth is you're only getting the higher SPF protection (which is only SPF 50).
Sunplay Skin Aqua contains Solarex-3 which is a revolutionary formula with 3 comprehensive levels of UV defense to product the skin from surface to deep within long hours.
The New Generation Solarex-3 (3-in-1 Sun Protection)




1) Long Lasting, Superior UV Protection: Advanced photo-stability with the highest UVA & UVB protection for long periods of safe sun exposure. UV rays are reflected away like from a mirror.




2) UV Anti-Aging Protection: Two powerful anti-aging ingredients, RonaCare Exotin and French Golden Algae, help to prevent pigmentation and wrinkles from surface to deep within.




3) Intense Hydration (Dryness Protection): Hyaluronic Acid, Collagen & Vitamin E intensely hydrate and lock-in moisture for long hours, so skin stays refreshingly moist.




The SUNPLAY Skin Aqua range is available at Watsons, Guardian, Sasa, Unity and other major department stores.
This product was sponsored.
All opinions are my own.
Labels: review