Kotex Fresh liners- Girls only!
A post just for girls!
Since this is a beauty-related blog, apart from maintaining an overall good physical appearance we should also take care of our well-being and other important areas of your body...such as the V-zone! It's another important part of our body and we must shower it with as much love as we did on our face!
Usually most of us would wear liners only when we are at that time of the month but do you know that you can also wear it on a daily basis? Extracted from Cosmopolitan magazine, it is perfectly normal for females to experience a white/clear discharge when they go through puberty since your v-zone is a self-cleaning organ and those discharge was its by-product. Typically an active person would experience more discharge so it is recommended that active ladies have on liners to prevent soiling your undergarment and guard against any discomfort caused by wetness or odour. This applies to all the ladies out there! You won't have to worry about dirtying other clothes in the washes too.
It's a basic for girls to scrub your stains from your undergarments before putting them to wash with the other clothes, you can't ask someone else to wash it for you obviously because that's just gross! So instead of coming back home from a long day at work and having to scrub it, you could just wear liners and remove it when you get home..voila!
I know some of you girls might be thinking.... won't wearing liners every day cause V-zone infections?! NOPE! They do not! If you're wearing the right liners that is breathable, it should not interfere much with your V-zone activity. When you're spending long hours out and about, you definitely want to wear a liner that doesn't suffocate your V-zone.
One of the most important point that a liner should have is that it should be breathable! If your liner is unbreathable, it might lead to irritations... or even worst, yeast infections! D:
For me, I personally hate wearing liners if I can feel them
there
(you know what I mean!). I prefer to use a liner that allows me to feel that I'm barely wearing them.
Kotex Fresh liners is designed to be breathable, lasts and keep you fresh for longer! It has what it takes to let you make it through the toughest thing any women can put through a regular day in your lives. Kotex has also upgraded their full range and is now the
first to own 100% range of breathable liners in Singapore!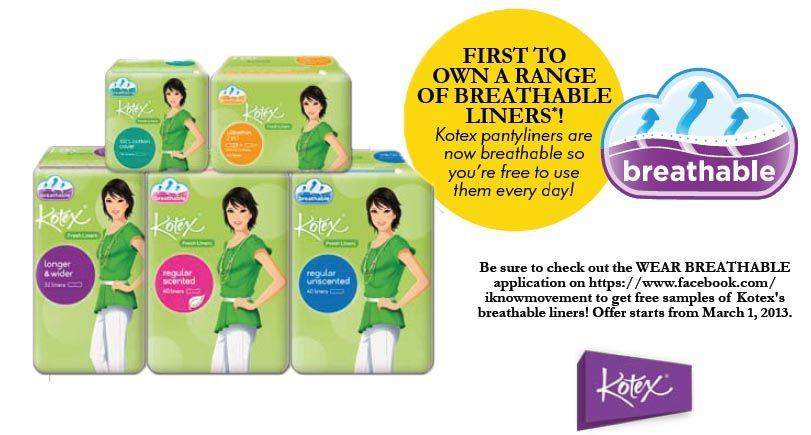 They have FOUR options in the Kotex Fresh range:
1- When you need a little more protection for when you're nearing ovulation (you can use the regular or the longer and wider ones)
2- When you hit the gym (You can use the regular scented or underscented ones)
3- When you're looking to guard against odour (they have the regular scented ones)
4- When you're wearing tricky lingerie
Kotex Fresh liners also have a thinner ends and a raised centre for a better fit and comfort, so you won't feel uncomfortable wearing them. Not to mention, it helps prevents irritation with a soft touch cotton-like cover. It also stays in place as it has double all-around channels to prevent bunching- which is really good because I really hate it when liners bunch up if I cross my legs!
So, I've tried them out and everything about them is true! They are the best liner that I've tried so far, being very breathable, lightweight, do not bunch and stay intact the entire day I was out!
You can get a pack to try for yourself!
Kotex Fresh regular breathable is priced a $2.95 per pack, comparing to another brand, it is much more worth it and affordable too!
Not to mention....
From now till the 27th March, Watsons is having a
$2 promo offer
for a pack of Kotex Fresh
Regular
liners so grab a pack today!!
Kotex® Fresh Liners are DERMATOLOGICALLY TESTED FOR DAILY USE.
Be sure to check out the Wear Breathable application at the
Facebook page (click here)
to get free samples of Kotex's breathable liners! Try it for yourself to believe it yea? ^^
Labels: advert, nuffnang, review