Levi's 501 interpretation event!
Was invited to Levi's 501 Interpretation event at Ion last Saturday with some other bloggers! If you haven't heard about it, the event was to celebrate a whopping 140 years of the iconic Levi's Jeans and Tosh Zhang, Ya Hui, Felicia Chin and Ian Fang was there to showcase their interpretation of Levi's 501 jeans.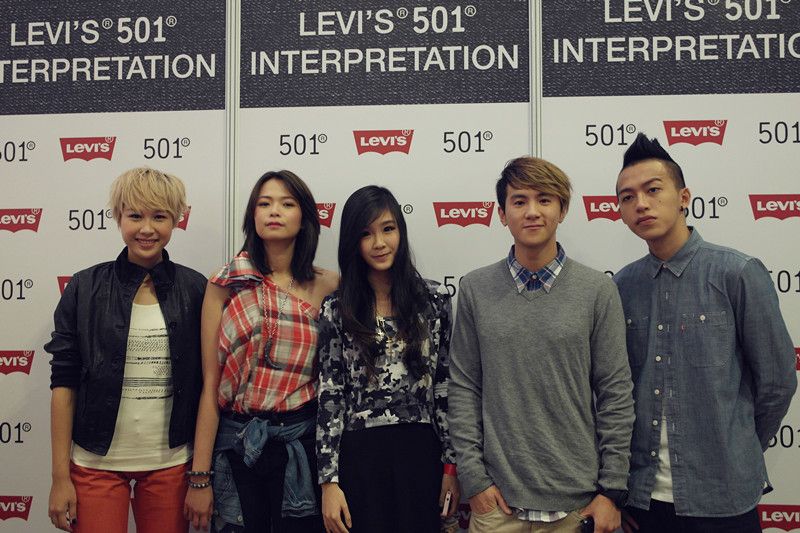 A little history about Levis
The Levi's® brand epitomizes classic American style and effortless cool. Since their invention by Levi Strauss & Co. in 1873, Levi's® jeans have become the most recognizable and imitated clothing in the world – capturing the imagination and loyalty of people for generations. Their range of leading jeanswear and accessories are available in more than 110 countries, allowing individuals around the world to express their personal style.

Levi's® 501® jeans hold a seminal place in fashion history and over the last 140 years have developed into a cultural icon. Levi's® 501® jeans are among the most worn and loved jeans in the world.

Craftsmanship and authenticity remain at the forefront, which is why Levi's® 501® jeans also improve with age – molding to the contours of the wearers body overtime and creating a bespoke fit and finish for this perfect classic and timeless jeans.

This Spring/Summer 2013, the Levi's® brand is marking the 140th anniversary of its iconic 501® jeans by introducing a non-denim Levi's® 501® collection for the first time.


The host for that day is Ivy from 93.3FM. The celebrities are all wearing outfits that they hand-picked by themselves from Levi's.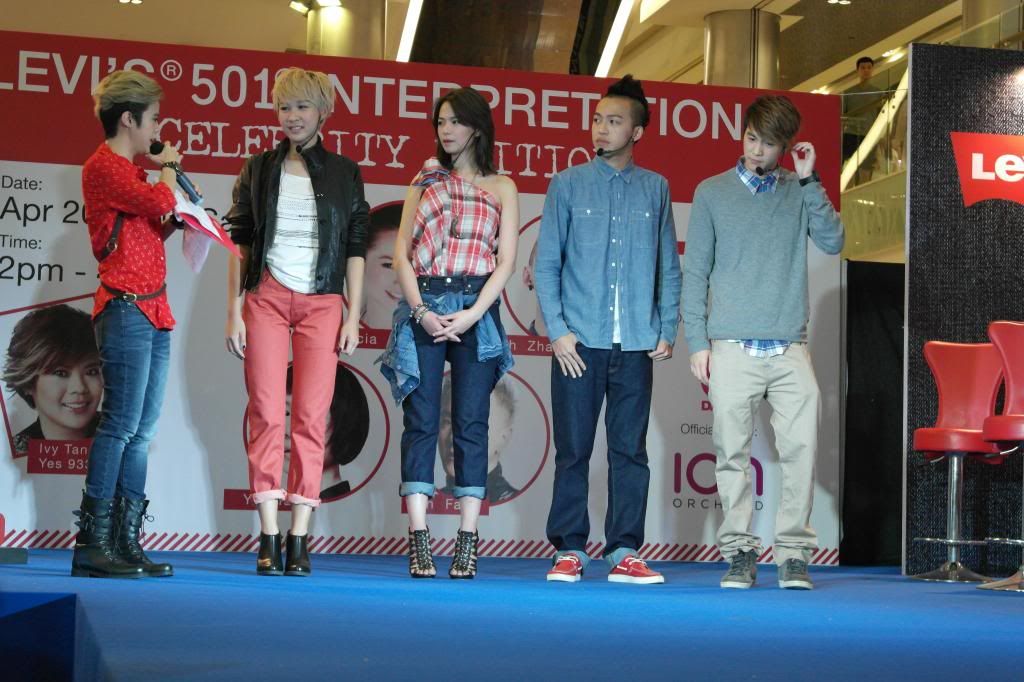 I really love the outfit that Felicia Chin is wearing! All of them are guy's clothing actually, she took a collar shirt and tie it up so it looks feminine and cut off the bottom of the guy's jeans so that she can cuff them up and wear it. Ya Hui's look is more edgy which matches her unique hairstyle! Tosh had the Bboy look going on with the collar shirt button at the top and loose pants while Ian had the Preppy boy look with neat neutral colors..which looks really cute!
Afterwards they played a game with some audience whereby they had to identify different parts of the 501 jeans! There was quite a lot of jeans terminology that I've never heard before but all I could conclude was...the Levi's 501 jeans has everything you need for comfort and style.
It was time for the celebrities to dress up their masculine models!
Felicia's model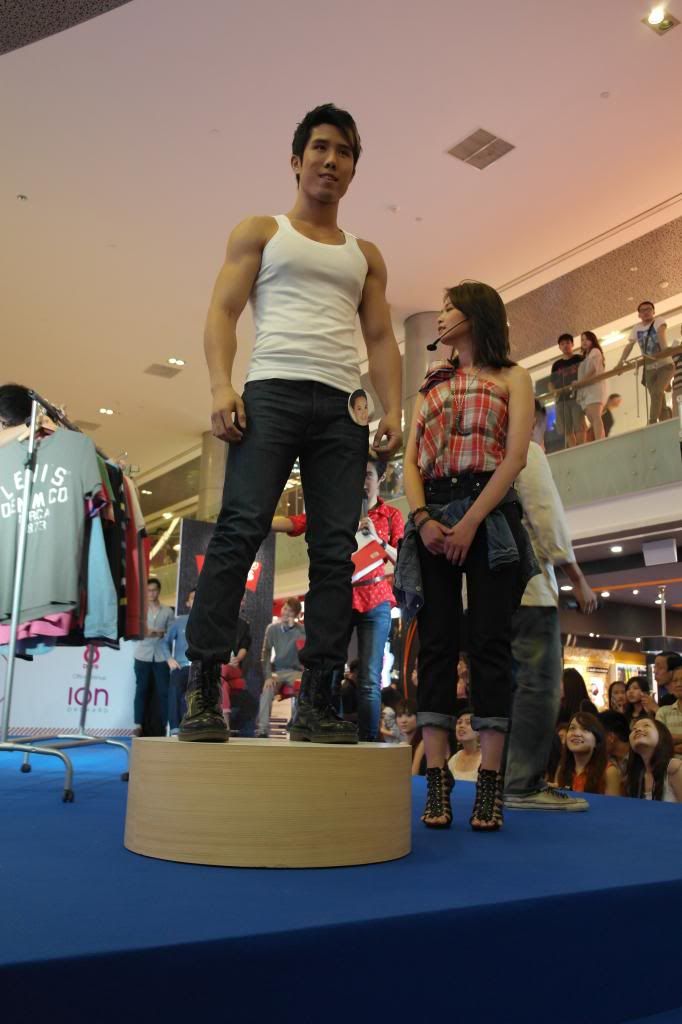 With the outfit that she picked for him. This outfit has a cheerful casual vibe to it, perfect for going to school or out for normal date!
Ian's model
Ian also went with a casual style for his model. However, it's more relax and laidback with the polo tee instead of the collar shirt like the previous model. This polo tee has ascending strip thickness which makes you look slimmer at the bottom when the stripes are thicker.
YaHui with her model...which is the cutest guy that day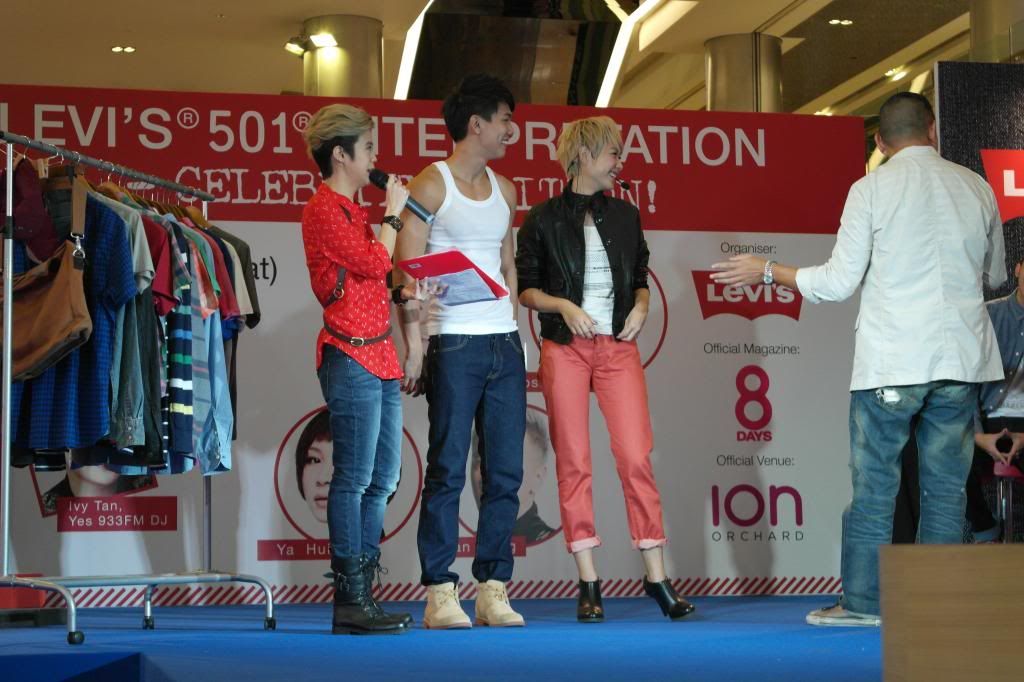 He even looks nice if he wears pink shirt. Lots of girls went crazy over him!
Styling tip: Wear lighter color clothes if you wanna look younger!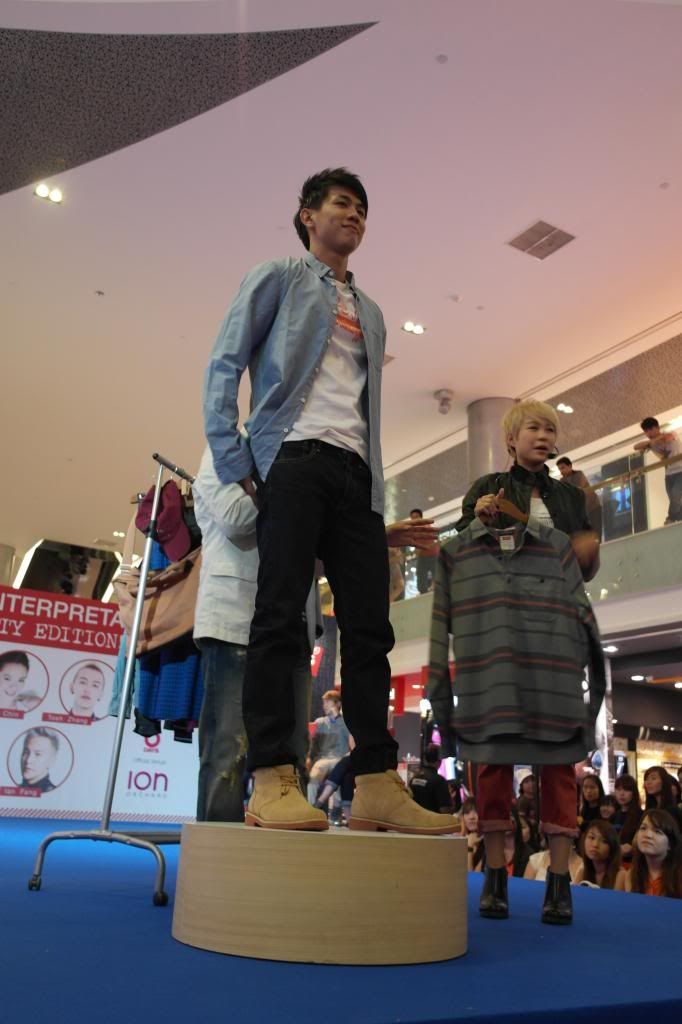 And darker color clothes if you wanna look more "man"
Of course, you can also pair it with another collar top as a "scarf" in colder countries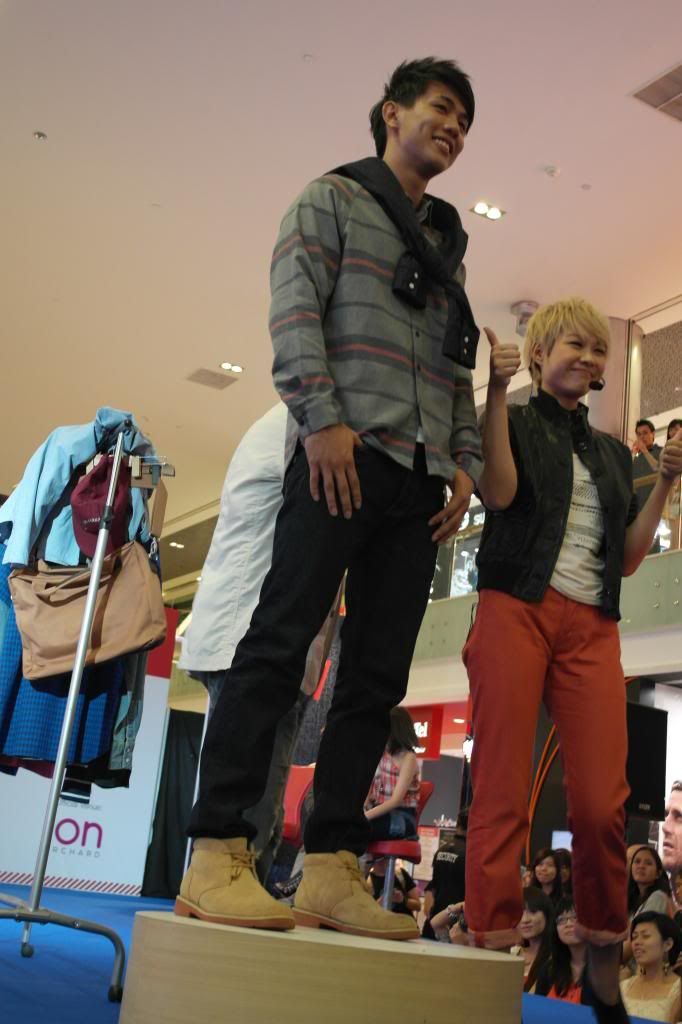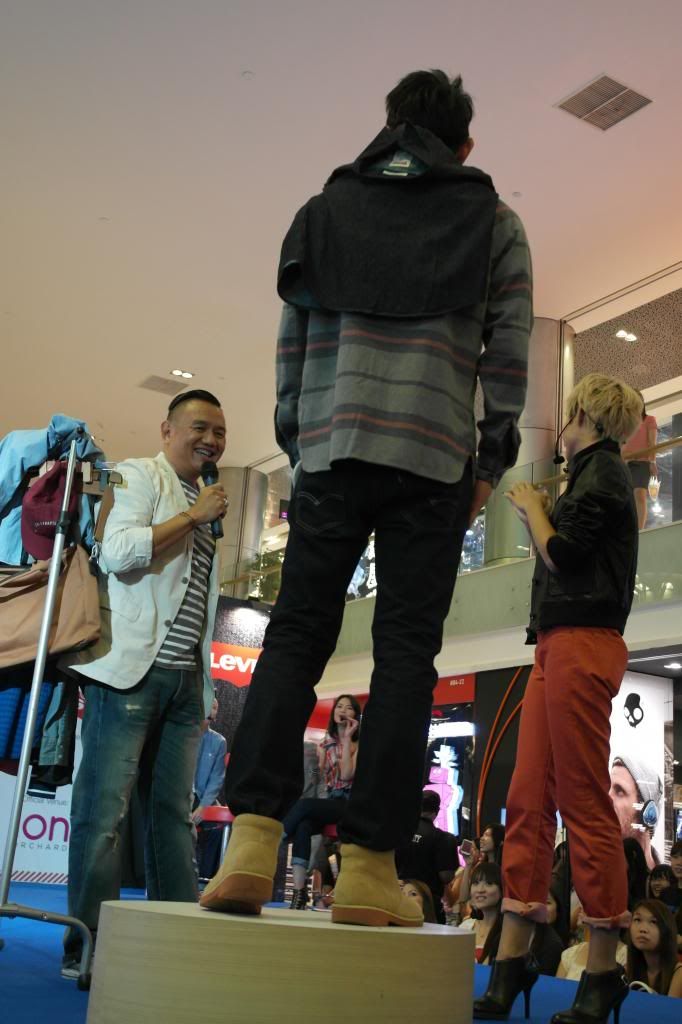 Tosh did his breakdance!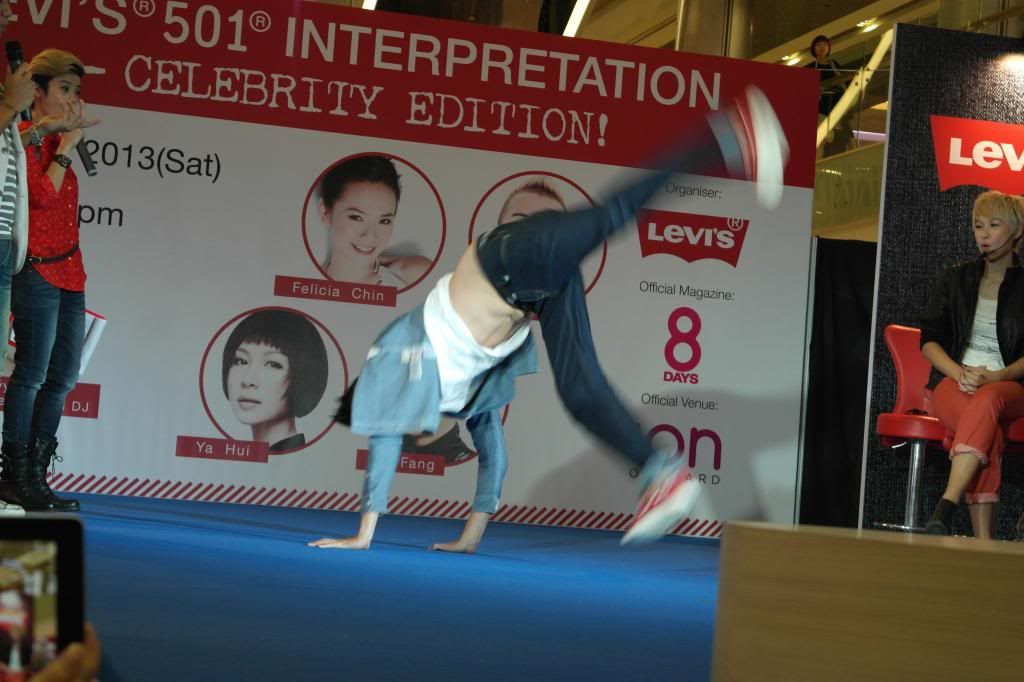 But anyway, here is Tosh with his model
He went with a casual yet a little edgy style with the denim collar shirt as a jacket. The sleeves of the inner sweater is peeking out from the denim sleeve to give the entire outfit more color so it won't look that dull!
Voting for the best outfit begins and the cutest guy won haha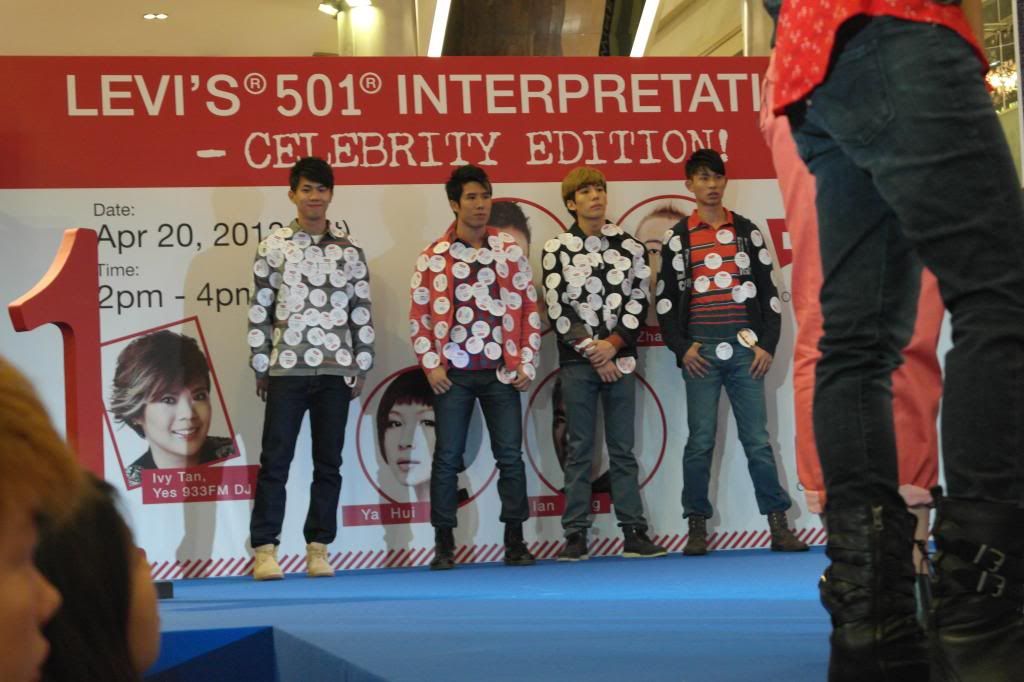 Some lucky audience got to walk away with prizes too!
If you've missed out on this event, fret not because there is another contest going on!
JOIN THE LEVI'S® 501 INTERPRETATION CONTEST!
Share your 501® look which best represents your individual 501® style interpretation and be part of Levi's® 501 gallery! Just wear one of Levi's 501 jeans and share with us how you match it your way!
PRIZES
TOP 5 WINNERS
$300 cash + $200 Levi's® merchandise
Be part of the Levi's® global 501® campaign
Score invites to the Levi's® 501® party (May 2013)
For more details, visit http://levis501.com.sg today!