April favorites 2013
I make it a point to try various new products each month because I have to satisfy my cosmetic obsession. I love it when a product exceeds it's expectation and become part of my usual routine!
Sometimes a much hyped about product could be one of the worst product I've ever tried but I guess that's the beauty about cosmetics. Different brands, different products suits different skin.
Last month I was ecstatic to be able to try a couple of new products that I fell in love with immediately.
I love watching Favorites videos on Youtube and since I'm not making Youtube videos, I thought I'll just do a Favorites blog post instead.
On to my April 2013 favorites!
Canmake Cream Cheek in 12 (Milky Orange)
Smooth, creamy consistency. Canmake Cream Cheek in number 12 is a light milky coral color with a hint of golden shimmer. I have to confess that orange is actually my least favorite color so I usually shy away from orange blushers but coral, however, is gorgeous.
I've been wearing this blush recently and I feel that it makes me look more
mature
as oppose to when I'm wearing a pink tone blush.
What I love about this product is that it can be
sheered
or
layered
, depending on your preference. The color is super pigmented and it looks natural on your skin once blended out.
Also, the packaging is very convenient because I could hold it up against my face after I'm done with makeup to see if the color would suit the makeup I have for that day.
It is also light weight which makes it portable for me to carry it around for touch-ups if needed.
I got this product from Japan for about 580yen (approx. 8SGD!) and the only regret I have is not getting the entire range of Canmake Cream Cheek.
Anyone heading to Japan soon? (:
DollyWink Eye Highlighter
Since I've been following the ulzzang makeup trend recently, I got this eye highlighter to create
aegyo-sal
. Aegyo-sal are actually korean eye bags, which makes your eyes look bigger than it actually is.
If you've watched korean dramas, you'll notice that most of their female characters would have nice eye-bags.
If you want to create aegyo-sal too, you can use a light shimmer color to highlight a small area below your lower lash line. To deepen the "eye-bags", you can use a light brown color to contour below the area you highlighted.
I find that using this product is easier as compared to using a shimmer eyeshadow to do the job.
I have very big eye-bags which don't look as nice as the korean aegyo-sal so I usually highlight the top part of my eye-bags to make it look smaller (and more korean-ish haha).
Candydoll Moisture Lip Treatment
Sweet, moisturizing and cloyingly delicious, this lip treatment probably came from a dream.
From the latest range of CandyDoll products, if you like sweet lip balm, this is for you.
The doe-like applicator facilitates applying the product to your lips. It is relatively lightweight even though you can feel the product on your lips, it might feel a little greasy at first but it'll slowly settle down to a nice layer.
Be warn though, it is
highly addictive
for people with a sweet tooth!
La Roche-Posay Effaclar Duo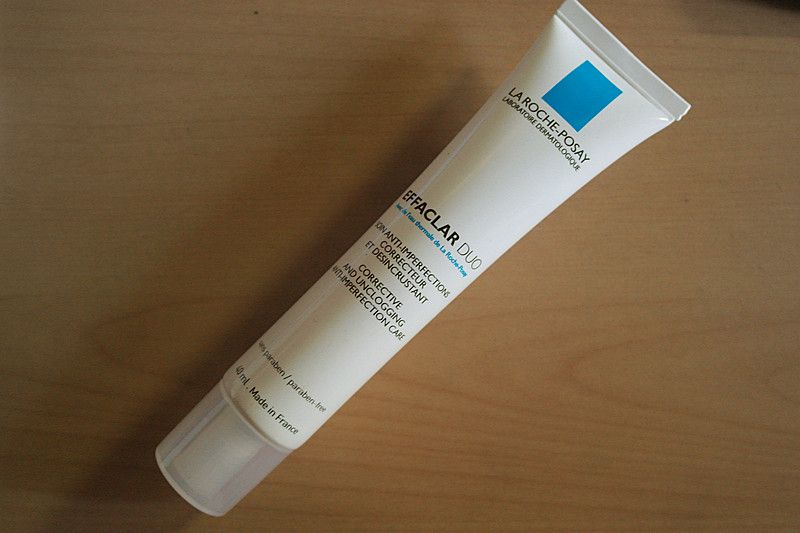 A couple of days back my colleagues asked me, "Eileen, why is your skin so good?"
The first product that came to my mind was the Effaclar Duo which I immediately started gushing about.
This product is
god-sent
.I would say that it's part of my "Holy Grail" products because it made such a HUGE difference to my skin
immediately
after using it.
The Effaclar Duo is a moisturizer that claims to unclog sebum blocked pores and reduce the appearance of imperfections.
I used to have reddish patches at my cheeks area because my skin is quite sensitive over there. I'll also have a couple of breakout on my forehead and cheek when it's nearer to the time of the month. However, after using this miracle product, I noticed that the area on my cheeks are no longer as reddish as before! Also, the amount of breakout that I have decreased too so I cannot explain how much I LOVE this product!
I would really recommend you to check out the Effaclar Duo, it's also very affordable at about $39.90 since the entire tube can probably last you for a very long time. I only need a small drop of it for my entire face.
Bioderma Sensibio Eye gel
The French have some amazing skincare.
Our eyes are the most sensitive area on our face. Tons of brands have came up with expensive luxurious rich eye cream to help soothen wrinkles and reduce puffiness. However, some of those rich eye cream might clog up the eye area if they are too oily.
When your eye area is clog up with oil, there would be milia seeds. I had one on my bottom right eye a few months back but I've never really done anything about it. However, a couple of weeks later, I noticed that the milia seed was gone and the only product that was near my eyes was this Bioderma eye gel so it must have been because of this product! Not forgetting, it gets absorbed into the skin really quickly too.
The Bioderma eye gel is used to decongest, soothe and moisturize the eye area. It contains the patented Toléridine® complex which instantly and durably acts against inflammation. It also raises the skin's tolerance threshold.
Bifesta Bright Up cleansing lotion (makeup remover)
Please tell me that you've at least heard of Bifesta (Japan's 1st water based makeup remover!) if you've never tried this makeup remover. Most of my beauty blogger friends adore Bifesta makeup remover too...for a very good reason. Side note, I'm using my second bottle of Bifesta makeup remover now! This Disney edition that I got from Tokyo was too cute to resist.
Just two to three pumps on a cotton pad to remove the makeup from my entire face. A little more on a second cotton pad to clear away the remaining eye liner and my skin
instantly
feels hydrated again.
Bifesta also have a wet wipes version of makeup remover if you rather not have the "pumping experience".
From their range of makeup remover, I'm using Bright up which is meant to brighten dull skin. They also have an Age care version too.
Just try this. You'll
love
it.
That concludes the products that I have been loving in the month of April!
I love blogging about beauty related topics the most, especially sharing about products that I love.
Let me know if there's any product that you love too because I would like to try them out!
Have a great weekend ahead ^^
Labels: beauty, favourites