The Grandstand Makan Hunt: The Ascot
A gastrogrub at a corner of The Grandstand, The Ascot is the place to go if you're craving for some good old english food. If I could sum up the food the The Ascot serves in three words, it would be "English comfort food".
While I was in the UK a few years back, I had my fair share of Bangers and Mash, bread and butter pudding and Fish and Chips from the pub near the place I was staying at.
That being said, I do crave for them often because it's hard to describe the warmth comfort food brings...and the memories it comes along with.
A Bunch of Bangers ($20)
Bangers are broiled sausages, served up with Bubble and Squeak, another traditional english dish made with leftovers. What I love about this dish is that it's
raw
, not uncooked but raw as in you get the real taste of what bangers should taste like. The true, unrefined taste of what you'll get in the UK.
Strawberry Spinach salad ($18)
One of my favorite starter dish because I love anything strawberry but the salad has a wide range of flavors ranging from sweetness from the fruit, savory bacon bits, the unique taste of blue cheese, nutty pistachios bits and green leafy spinach.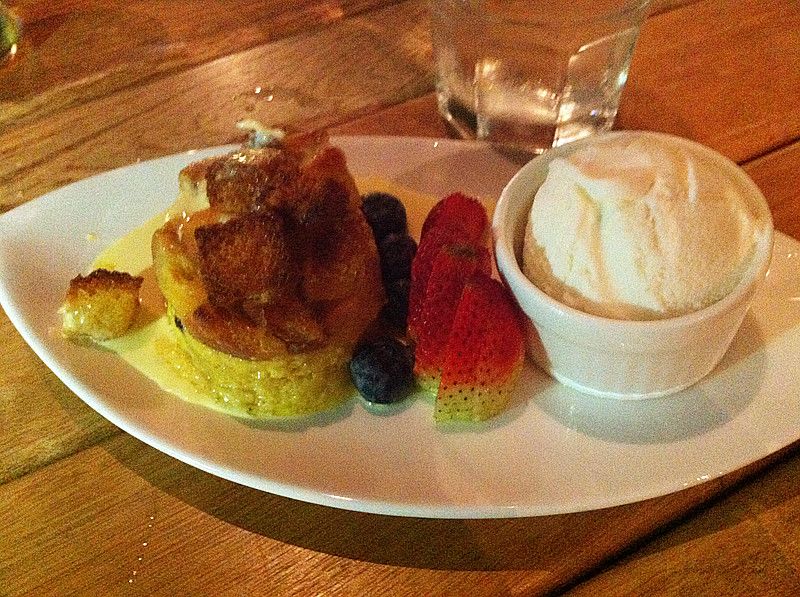 Classic Bread and Butter Pudding ($9)
Another classic british dessert, the Bread and butter pudding is made with layered butter bread drizzled with an egg and milk mixture. No frills yet delicious at the same time, coupled with the ice cream and fruits as the sides to give you a well balance dessert dish.
Deep-fried Mars Bars ($8)
My favorite of the lot has got to be the Fried Mars Bars. Sinfully delicious and way different than the ones you get from the british fast food place. The batter is wrapped light and crispy over the mars balls and I have to say it's one of the best dessert I've had! I just wanna travel all the way to The Grandstand to have some of this!
That concludes all the restaurants we visited for The Grandstand Makan Hunt by Openrice!
Thank you so much for having me ^^
Labels: food tasting, openrice