The Grandstand Makan Hunt: Hansang Korean Restaurant
Korean barbecue? YES, COUNT ME IN.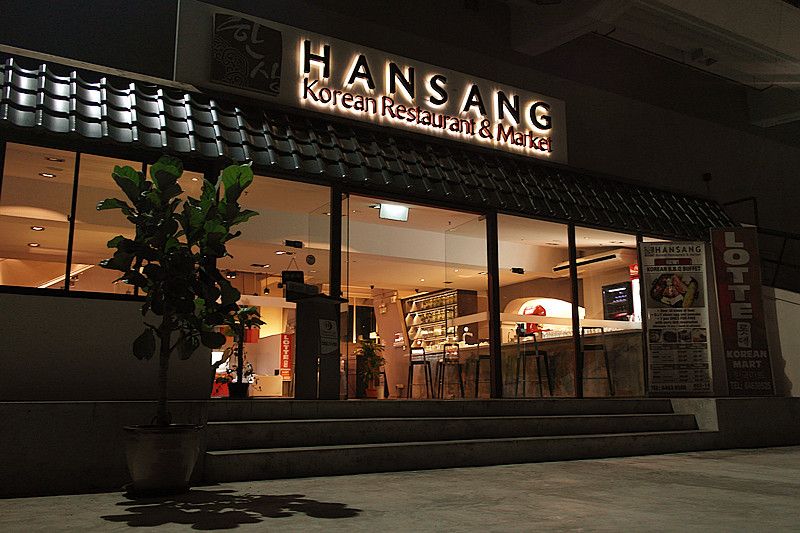 Located just outside of The Grandstand, Hansang Korean Restaurant and Market look perfectly enticing, no doubt since it's the largest Korean restaurant in Singapore till date. There are also two more outlets at Holland Village and Novena.
LotteMart, a korean mini supermarket, is located inside Hansang. Recently I dropped by Hansang for dinner with my family and stocked up on some seaweed snacks! They have the wasabi, sesame and korean bbq flavored ones! Not to mention, the popular Melona Ice Cream is also available at the minimart!
The interior of the restaurant is really spacious. The middle tables usually serve customers having their buffet, side tables for ala-carte orders and special rooms for ala-carte orders in big groups.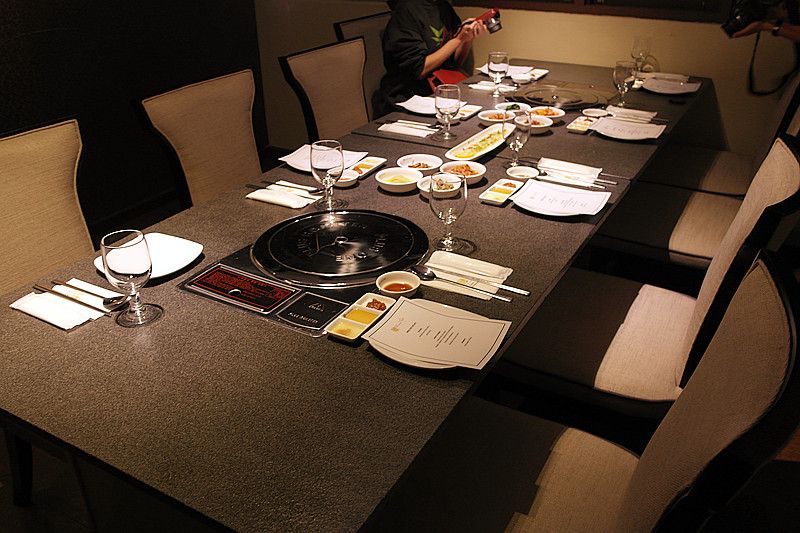 We were ushered into a private dining room with the usual korean bbq table that has the grill in the middle. What I love is that they provide us with three different types of condiments!
Depending on your taste preferences, you can either dip your bbq-ed meat into Salt, pepper and oil or Soya sauce or Bean Paste.
I usually just dipped my bbq-ed meat in all three of them haha
Side dishes
Made fresh everyday, their side dish varies depending on what's available on the day itself.
I love the kimchi because it's really good!
Get lettuce when you have barbecue and eat it like the koreans! They wrap the lettuce around the meat, a healthy way to have your barbecue meat don't you think?
Assorted Pancakes
A variety of fried food.
To be honest I can't really remember the taste of this. It was good, but nothing special for me.
Vegetables
The vegetables get cooked first before the meat and trust me on this, you
will
want to eat your veges after it gets off that grill.
Delicious.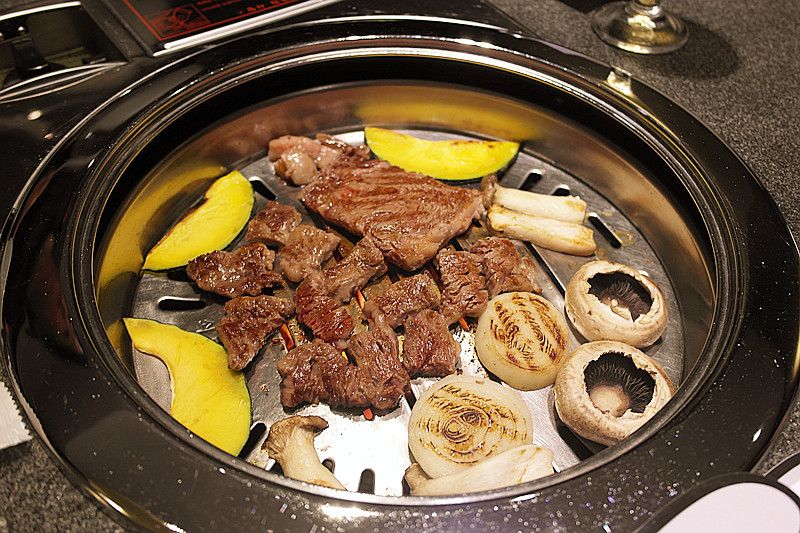 Char-grilled beef (Prime Ribeye and Marinated shortribs)
The star of the night. I get hungry just looking at the pictures. Doesn't the meat look so good?!
Marinated shortribs, also known as
Galbi
, is well, short ribs marinated in typically a mix of Korean pear juice, rice wine, sugar, soy sauce, garlic and sesame seed oil. My love for Korean barbecue is insane.
The taste of the Char-grilled beef was so intense in my mouth, felt like every flavor burst out of this succulent grilled goodness!
By far, Hansang has the
best
korean barbecue I've ever tasted. Hands down.
I can't wait for my next trip there!
Ginseng Chicken Soup
Definitely a must-have for me whenever I go for Korean bbqs. Tender chicken cooked in a broth with ginseng slices and sticky rice. You can't go wrong with this.
Hansang's Ginseng Chicken is one of the best ginseng chicken soup I've ever had so far!
Their
Samgetang
is deliciously fragrant and I bet it would have been the perfect pick-me-up for a cold rainy day.
Hotteok and Cinnamon tea
Hotteok- korean pancake. The word "pancake" gets me every time because I love them...probably my favorite carb food. Coupled with vanilla ice cream on the top and it was the perfect sweet ending to a korean feast.
I have to admit that the Cinnamon tea wasn't my cup of tea. It takes some getting used to but I wasn't a fan of cinnamon in a cold tea form, I prefer it in a piping warm pastry.
Hansang has korean food the way it would taste like in korea and no doubt the environment is amazing too. The best part after the amazing meal at Hansang would be able to stock up on your korean snacks at the mini mart outside.
Hansang is now my favorite place to go for korean barbecue, no doubt about that!
Labels: bbq, food tasting, korean, openrice