INTELLIGENCE screening - RTL CBS drama
A few days back I attended the media screening of Intelligence, a RTL CBS drama that's been a popular hit in the US once it was shown there! RTL group and CBS studios have teamed up to launch two channels in the Asia markets- RTL CBS Entertainment and RTL CBS Extreme. Each channels will have their own set of programs specially suited for their targeted audiences!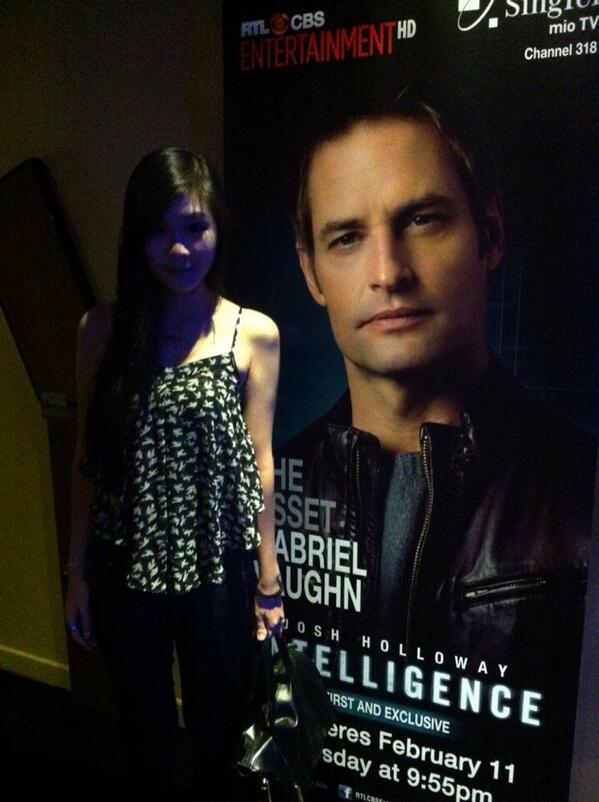 I am hugely addicted to watching American dramas.
Currently, I'm watching Revenge, The Vampire Diaries, The Originals, Carrie Diaries, Once upon a Time, True Blood, Big Bang theory...not to mention, I really love watching The Voice, American Idol and such reality shows! I find that the selection of dramas available on TV in Singapore is quite....sad so I usually watch my american dramas online. So, being a huge fan of American dramas, I got really excited once I watched the trailer for Intelligence!
A dramatic thriller starring Josh Holloway as Gabriel, a high-tech intelligence operative enhanced with a super-computer microchip in his brain. With this implant, Gabriel is the first human ever to be connected directly into the worldwide information grid and have complete access to Internet, WiFi, telephone and satellite data. He can hack into any data center and access key intel in the fight to protect the United States from its enemies. Leading the elite government cyber-security agency created to support him is Director Lillian Strand (Marg Helgenberger), a straightforward and efficient boss who oversees the unit's missions. Strand assigns Riley Neal (Meghan Ory), a Secret Service agent, to protect Gabriel from outside threats, as well as from his own appetite for reckless, unpredictable behavior and his disregard for protocol. Other skilled members of the Cybercom team include Chris Jameson (Michael Rady) and Gonzalo "Gonzo" Rodriguez (James Martinez), two resourceful federal investigators. The brains behind the design of the chip is Dr. Shenendoah Cassidy (John Billingsley), whose son, Nelson (PJ Byrne), is jealous of Gabriel's prominent place in his father's life. As the first supercomputer with a beating heart, Gabriel is the most valuable piece of technology the country has ever created and is a U.S. secret weapon.
Apart from the super interesting storyline, Intelligence also has an amazing cast to back it up.
Josh Holloway ("Lost") as Gabriel
Marg Helgenberger ("CSI: Crime Scene Investigation") as Lillian Strand
Meghan Ory ("Once Upon a Time") as Riley Neal
Michael Rady ("The Mentalist") as Chris Jameson
James Martinez ("Gravity") as Gonzalo Rodriguez,
John Billingsley ("True Blood") as Dr. Cassidy
P.J. Byrne ("Wolf of Wall Street") as Nelson Cassidy
Michael Seitzman, René Echevarria, Tripp Vinson and David Semel (for pilot) are executive producers for ABC Television Studios in association with CBS Television Studios.
But that's not the best part!
You can watch Intelligence on TV, at the big screen instead of online because the show will debut on Singapore television on
Channel 318 RTL-CBS, mio TV on Tuesday, 11 February 2014, at 9.55pm
!
So if you're a big fan of dramatic thrillers and action-packed dramas, you definitely don't want to miss this show! After all, doesn't Gabriel reminds you of a modern day superhero with the power to get in touch with technology instead of being able to fly/be invisible/throw hammers etc.?
I mean, what would you do if you have that sort of power?
Labels: nuffnang