Influr launch at Mariott Hotel + Laneige
A few days back I attended the Influr event held at Mariott Hotel's Pool Grill, a chic alfresco restaurant right beside the pool! The location was fantastic- Mariott Hotel was located in Orchard so I did some shopping before going over plus, the Pool Grill has a certain elegance to the place as diners could enjoy their meal in a resort-like oasis.
Mariott Hotel's Pool Grill also offer Sunday Brunch with their signature Chilli Crab Omelette, Banana pancake with coconut milk and Gula Melaka to tantalize your tastebuds!
Influr event was held right beside the Pool Grill at the Mariott Hotel Pool Terrace Pavilion. I sort of wish I could hold my 21st birthday at such a location! The Pool Terrace Pavilion is a cozy space where you can look at the view from the picture above and it gets even prettier at night when all the lights are up!
For the event, Influr has teamed up with Mariott Hotel and Laneige. Laneige gave us girls each their new BB cushion which I'll talk more about later!
As a blogger, I try to add my own creativity into my blog post as much as possible. I like to think of new and interesting way to showcase the products that I'm given for review or creative ways to use a certain products to share with all of you.
Influr is founded on the basis of creativity.
So what is Influr all about?
If you're a blogger or inspire to striving to be influential, signing up at Influr will definitely gives you benefit. Each time you create a creative content (say, a blog post or a facebook post etc.), your friends or followers will "like" or "comment" on them- they sort of applaud and acknowledge your effort and thus you are motivated to do better.
Influr is here to turn those motivation into actual rewards! There are treats that you can retrieve from Influr to reward you for being influential. If you are truly influential, you might even be selected to become a Brand Advocate of their partners through Assignments (which are Influr's brand campaigns!)
Sounds really exciting right? Influr rank you according to the level of influence you have. Each level has it's own treats!
Onto the new Laneige BB cushion!
I have been using the Laneige BB cushion every day ever since I got it. Their new BB cushion now has 6-in-1 benefits:
1. Brightening effect- Whitening ingredients from Laneige White Plus Renew line helps to brighten skin complexion and increase skin clarity
2. UV protection- with SPF50 and PA+++, you are getting really high protection from the sun just by applying the BB cushion!
3. Moisturizing effect- Laneige has it's exclusive Optimal Mineral Water that provides instant and deep moisturizing effect. After all, Laneige also came up with their Water bank sleeping pack which is just SO GOOD.
4. Natural and clean coverage- With medium coverage gives the skin a natural finish without oil-shine and stickiness
5. Soothing effect- Cooling sensation that instantly cools the skin surface to refresh and soothe fatigued skin
6. Water resistant- For longer lasting makeup and resistance against perspiration and sebum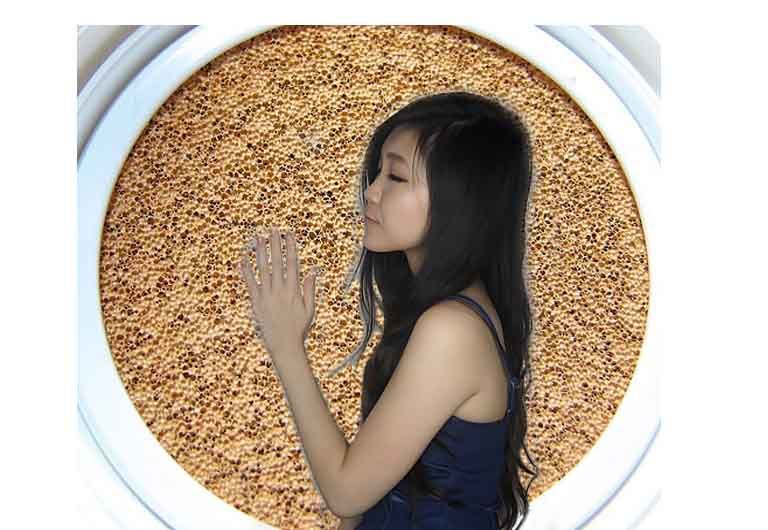 (Re-cycling the photo that I did for Laneige blogpost last time haha!)
I've talked about the BB cushion before and I have always loved it!
What I love about the Laneige BB cushion is that it is a good everyday base for my skin. It is soothing when applied to the skin which I love, as it means that you would have a lower chance of getting pimples/breakouts. The coverage is more to the lighter side, it doesn't cover up imperfections but it does even out my skin tone very well.
An interesting point to note is that it uses a tailor-made puff! It is an air-cell dual textured puff that is processed with a special technology. Application with the puff feels really good and I can see why people who use the BB cream always rave about their puff!
Laneige BB cushion comes in 5 shades, I'm using #21 Natural Beige.
Thank you so much to Influr, Mariott Hotel and Laneige for a great evening!
If you're interested to be part of Influr, head over to influr.com and sign up with your facebook/twitter!